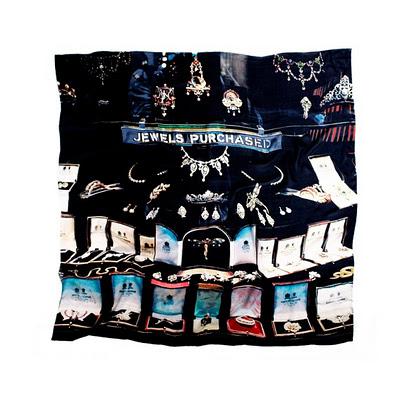 Temps de Reve by Adrian Mesko, "Bond Street Jewels" silk scarf, $275.
My mid-afternoon strolls through Soho have proven to be quite inspirational. Several weeks ago I spotted a beautiful scarf in the windows of
MiN
, an apothecary and boutique on Crosby Street. At first glance I thought that this was a vintage scarf, my eyes immediately focusing on the Art Nouveau dragonfly in the center, but after talking to the shopkeeper I learned that the scarf was the creation of Adrian Mesko, a young fashion photographer. Mesko has traveled the world on assignments for Vogue and Harper's Bazaar Australia (his childhood home) but, as of December 2010, he also became a designer when he launched his own line of silk scarves.
Mesko's label is called
Temps de Reve
, which means dream time in French. The scarves are an extension of Mesko's photography work: by superimposing his own stills onto the silk scarves he is giving his work a new life, and according to Mesko a "new sense of functionality."
The scarf that I fell in love with is called "Bond Street Jewels" and is a shot of a window display on London's New Bond Street, which is known for its upscale boutiques and jewelry stores.
It really felt like a dream to stumble on a shop window in modern-day Soho and feel transported to London circa 1900. As Adrian tells me, "it could have been a snapshot of some one's view a couple of hundred years ago, a timeless image from my dream time." Or mine.