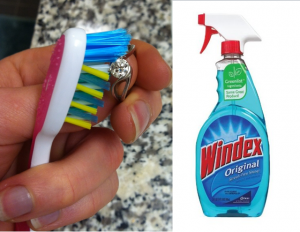 Photo Source: Clevergems.com
Calling all jewelry owners! We know that our precious metals often loose their shine–especially the Sterling Silver! Every time it happens, you want to jump in your car and scoot over to the closest jeweler to have them cleaned since you must pair your diamond earrings with the silver Tiffany bracelet this evening!
Listen up! There are several home remedies for cleaning jewelry with non-abrasive household items that you almost always have on hand! Check out these great fixes for common jewelry dinge, dirt and tarnish.
Our best friends, diamonds, are at their best when they have a glassy looking shine! We hate seeing our diamonds dingy. Diamonds (and gemstones like rubies) are a crystalline based gemstone. You can quickly polish these stones up with Windex. Just spray a bit on the stone, scrub it down for a minute with an old toothbrush: and voila! Wipe dry with a soft cloth. You can also use Vodka or toothpaste to clean up crystal based stones. Be careful not to get these "cleaners" on porous stones like opal, turquoise and the like as the harsh ammonia in Windex, specifically, may discolor them.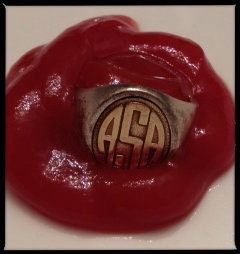 Photo Source: Andy Thornal
We all know how acidic tomatoes are, but who would have thought Ketchup does the trick on tarnished silver. Usually just squeezing it on will do the trick after letting it sit for a couple of minutes, but if there are lots of crevices, lightly brush the ketchup around. Be careful not to leave it on too long as it only needs a couple of minutes to work it's magic.
This one amazes me! Next time you're drinking a light ale, consider rubbing a bit of the beer onto your gold to buff in some shine (via soft cloth, of course). Wipe with a dry, soft cloth for the ultimate golden hue.
You can even dissolve a tab of Alka-seltzer as per the directions and drop in any of your jewelry that needs a quick polish. After a few minutes, dry with a soft cloth and your back to your usual shine.
Who would have thought so many of these household items were so versatile. Moreso, who thought about cleaning their jewelry with Ketchup? Oh the things we'll never know…
Alexandra for Raymond Lee Jewelers, South Florida's source for buying, selling (and cleaning!) jewelry.