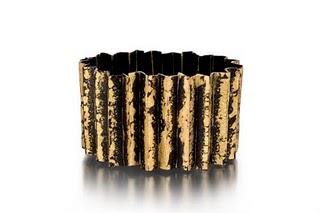 Patt Flynn, Corrugated Cuff, 2009, iron, 18K and 22K gold
 Last month I attended the opening of an exhibition called "Jewelers of the Hudson Valley" at the Forbes Galleries in New York. I never knew that the scenic Hudson Valley was also home to so many talented artists. However it does make sense that there would be a collective of artisans living in the area since the metals' program at SUNY/New Paltz is so prominent. The objects on display are all beautiful and unique, as you can see from some of the images, no two pieces are alike. Leaving the exhibit I felt as if I had made a discovery for myself and was glad that the curator was on hand to answer some of my questions.
1. Please tell me where the idea for this exhibition came from?
--I knew most of the jewelers in the exhibition and had visited them in their studios which are geographically in close proximity. Not only was I excited by each artist's jewelry, but I was aware of what a collegial group they were…they are friendly with each other, share ideas and are not competitive at all. I thought that was extraordinary. To have great talent and to be such generous people.
2. The exhibition features the work of seven artists (Jamie Bennett, Pat Flynn, Arthur Nash, Tom Herman, Sergey Jivetin, Myra Militsch-Gray, and Jennifer Trask). They are all connected to the metalsmithing program at the State University of New York at New Paltz. I imagine that it must have been difficult to choose only seven since the program is one of the most prestigious in the country. What was your selection process like? And were you familiar with their work prior to your preparation for this exhibition?
--I met Jennifer Trask a few years prior when she spoke at one our study days (the Association for the Study of Jewelry & Related Arts runs these in conjunction with our annual fall event/conference) at Mobilia Gallery in Cambridge, MA and I really admired her work. In the years that I have known her she has grown tremendously as an artist and it has been exciting to watch.
Tom Herman has no connection to SUNY New Paltz…he just happened to settle in the area. I think Tom was the second artist I knew but I can't remember where we first met…I just remember being dazzled by his jewelry. And then I met Pat Flynn at The Walters Art Museum annual jewelry fair and loved his process of forging iron and adding gold, silver and platinum to it…a wonderful contrast. Through these three artists I met the others. Jamie Bennett, a professor at SUNY New Paltz in addition to being a highly regarded enamellist, helped to select the students/grad's work for the show. And I had previously met Wayne Lempka, the collections manager at the Dorsky Museum and I asked and he agreed to lend pieces from their collection. That's how it came together.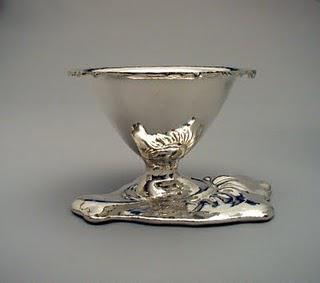 Myra Mimlitsch-Gray, Compote, 2003, sterling silver
3. You write in the exhibition's introductory text that all of the works were chosen "for their unique qualities and the 'voice' of the artist they represent." Obviously, this voice, or uniqueness, is imperative to the artist's success. Considering that the artist's featured are all at different stages in their careers, I was wondering if any of them told you how long it took them to develop that voice.
--Well, we never had that specific conversation. But I spent a great deal of time looking at both the pieces that are in the exhibition and looking at their earlier work as well through the internet, catalogues, etc. They have all been working at their craft for sometime, some longer than others. But while they may have found a signature technique or approach to their work I think you will see that no matter how long they have been working artists their work constantly evolves and changes. None of them rest on their laurels as far as I can see! So their "voice" is not something static…there is a quality to their work that is recognizable but always something new as well. You can see that a number of them have "collections" that are connected in some way…and then they move on to something new. So I don't think any of them could qualify the time period in which they "arrived".
4. I imagine that every exhibition curator wants visitors to his show to learn at least one thing. What would that one thing be in your case?
-How diverse contemporary studio jewelry can be—in technique, materials and the emotions it evokes. Even if the artists have had similar training…creativity is a very personal thing. And how we respond to it is as well.
5. Are there any other areas in the country that have such a strong contingent of jewelry designers?
--Oh many. Certainly on the West Coast, the Boston area, and in areas where there are metals programs like Rhode Island School of Design, and Cranbrook in Michigan…just to name a few.
The exhibition also features the work of current students and graduates of the SUNY New Paltz metal program other than the seven artists discussed. Some pieces are also on loan from the Samuel Dorsky Museum of Art (SDMA), which is located on the grounds of SUNY New Paltz. The SDMA received an anonymous bequest in 1985 of historical and modern silver, and now has concentrated its efforts on collecting modern and contemporary jewelry.
Jewelers of the Hudson Valley
, April 7 - June 25, 2011, at the Jewelry Gallery, The Forbes Galleries, 62 Fifth Avenue, at the corner of Fifth Avenue and 12th Street, in New York City.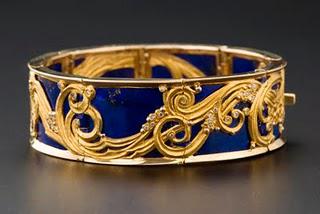 Tom Herman, Lapis Wave Bracelet, 2010, 18K gold, lapis lazuli, platinum, diamond, gilded sterling silver, enamel
The Association for the Study of Jewelry and Related Arts, LLC (ASJRA)
is an organization dedicated to the advancement of jewelry studies by individuals and in schools, museums, and institutions of higher learning. ASJRA takes a broad approach to the subject, seeking to understand and place jewelry within a variety of contexts including the decorative arts and fashion. It focuses on all jewelry periods from the ancient past to antique to period jewels and the work of present day studio artists.
AJSRA publishes Adornment Magazine, a weekly newsletter, runs an annual fall event, numerous additional special events, and offers a number of other benefits. Membership is open to anyone who is interested in studying the history of jewelry