As the drums trace out a heartbeat on "Wildest Moments," Jessie Ware's voice dances ably above them. Though she lacks the show stopping theatrics of Adele, she adds something perhaps more rare to the well worn British singer-songwriter equation: an unpredictability, a vague challenge to the status quo. I begin with "Wildest Moments" because it's the song that catapulted Ware to fame in the UK, and its simplistic formula stands out from the rest of Devotion, a track that carries the marks of the experimentation found elsewhere, but winnowed down to the subtle variations of tempo and intensity that make Ware's talent so mesmerizing.
For most of Devotion, that experimentation comes on the production front (spearheaded by Dave Okumu, better known as the front man of the Invisibles). We get a distorted and cut-up vocal sample as the foundation of "110%" and a stuttering, dreamy melody for Ware to keep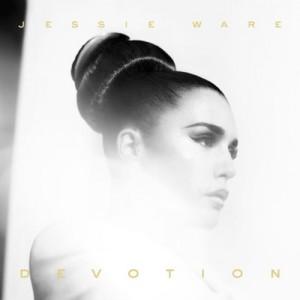 pace over on the title track. But more interesting is the variations that Ware gives us of herself.
Devotion
 exists somewhere between pop and soul, and with each song comes a different approach to those genre's fusion.
On "Running," we get a shadowy synthesized beat, evocative of late disco's move away from insisting on having fun all the time. Ware fits this model perfectly, dipping between a breathy falsetto and the earthy, groovy side of her range. Likewise on "Night Light," Ware does her best diva impression, proclaiming, 'like a ghost I cannot see, you're the shadow behind me,' before rebinding herself to the melody for the chorus.
But Jessie Ware demonstrates that she can fade into a track just as easily as stand at its center. On "No to Love," she does little but play into the rhythmic structures laid out around her by repeating the title over and over. Then her producer takes a turn with a rapped verse, revealing this song for what it is: an ornate piece of hip-hop production. A strange choice for a solo album, sure, but it serves as the perfect palette cleansing bridge between the first few tracks and "Night Light."
More than anything, this is an evenly paced album, one that doesn't place its single front and center and then assume you'll listen to the rest of the songs once and then forget them. Each one feels carefully considered and placed, preventing any sense of drag from setting in. When "Taking in Water" hits, then, the poignancy in Ware's voice as she sings, 'I'm taking on water for you, my love' registers not as put-on (this is, after all, a pretty silly metaphor), but something felt deeply.
Devotion is a precisely made album, but despite the thought that runs through it, Ware's presence never flits away from our attention. On the closing track, "Something Inside" this fact is most clearly demonstrated as the most intricate production on the whole album layers and intertwines different Ware samples–it's as if her voice has moved beyond simply carrying songs and is now creating them entirely. The contrast between "Something Inside" and "Wildest Moments" is stunning–whether on a straight-forward pop track or a shimmering coda, Ware never misses a beat.

4 / 5 bars