Follow Friday
Jump to:
Follow Friday
 Jerome Jarre | Vine
Welcome to Follow Friday on TheSortingHouse, where each week I either feature a blog, a person, a movement, or anything really which has inspired me or has had me addicted!
I love hearing from you and if you'd like to get in touch about anything, why not let me know in the comments below, or you'll find my contact links under the Over to You section at the end of the post.
Continue reading to see who made TheSortingHouse Follow Friday this week and don't forget to Subscribe via email if you never want to miss a post.
 Jerome Jarre | Vine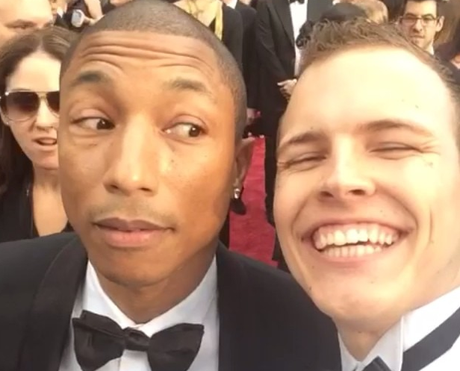 Jerome Jarre and Pharrell Williams – Image from Jerome Jarre Instagram @jeromejarre
Although I have an account on Vine @thesortinghouse I barely use it! However when I was reading an article about the rise of the Vine superstars, I came across a compilation of Jerome Jarre's Vines – and was howling in seconds. This guy is funny!
So I just wanted to share his humor with you. Jerome's Vines are mostly of him engaging with strangers in the street, what makes them so funny is the stranger's reactions. Check it out for yourself and let me know what you think in the comments below:

If you Vine and want to follow  Jerome Jarre @Jerome Jarre, or he is on Twitter @jeromejarre.
Over to You!
Did you already know all about Jerome Jarre's antics? Maybe you have another favorite Viner?
Let us know in the comments below,
Or you can find me on ➳ Twitter ➳ Facebook ➳ Pinterest ➳ Instagram ➳ Google + ➳ #FF
What's Next?
Are you an online contributor that wants to be considered for the Follow Friday Feature here on TheSortingHouse?
If so I'd love to hear from you too, please send an introductory email telling me why you should be featured to thesortinghouse [at] gmail.com.
Want posts just like this by TheSortingHouse rounded up daily and posted right to your inbox for your convenience?  Just enter your email address below, click the verify link in the email – and you are set!
Enter your email address:
*This page may contain affiliate links, view the Terms and Conditions to find out more.