Today – I have more. There are literally hundreds of wedding DIY ideas for you here – all vintage inspired, creative and fun. Sally's ideas for the wedding came together beautifully and Dwiko Arie's images captured her inspiration so well.
Rather than making my own inspiration board I'm going to show you some of the images Dwiko sent, just as they are (this wedding photography blog is seriously inspiring – there's a link at the end you HAVE to visit) and use Sally's own words to share the details with you.
Enjoy!
Sally and Gareth's vintage and Caribbean wedding inspiration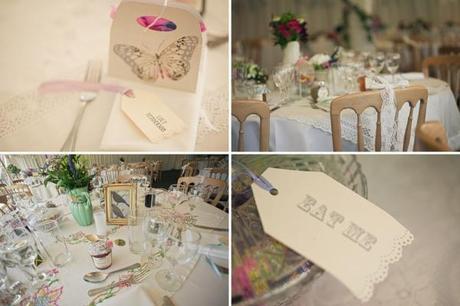 Sally is a big fan of Style Me Pretty and Once Wed blogs, and took inspiration from the wedding blogs she loved. The theme for her and Gareth's wedding day was vintage English with a Caribbean twist.
Eclectic and quirky vintage wedding accessories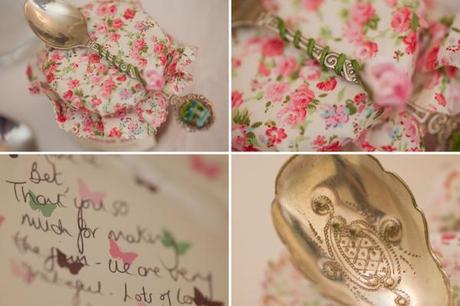 Sally and Gareth spent months trawling charity shops, flea markets and car boot sales for little bits of vintage loveliness – something Sally really loved doing anyway. She found vintage lace table cloths, old silver spoons and vintage china, bird illustrations, jugs, vases and glass sweet jars. Sally's mum and sister helped with the search and together they collected a room full of goodies at Sally's parents' house!
Unique wedding table names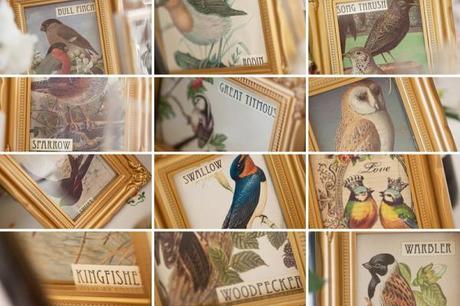 Sally knew form the start that she wanted vintage bird illustrations to represent table names at the wedding. These were harder to find: the illustrations had to be in a particular style and her patience paid off – such a beautiful and distinctive collection of images! The matching frames (all seventeen) came from a 99p shop in Brixton!
Home made jam wedding favour ideas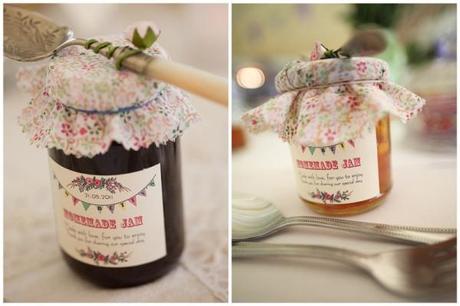 Sally's Auntie Betty offered to make jam for the ladies favours from fruits in her allotment: seventy jars of jam later, Sally and Gareth had the loveliest table accessories / favours for their guests. Sally's sister Lucy made the labels again (my favourite bit, they're so pretty) and the girls cut out circles of material to cover the lids. I love that this wedding day is such a family affair, with everyone pitching in to make it so very special and personal.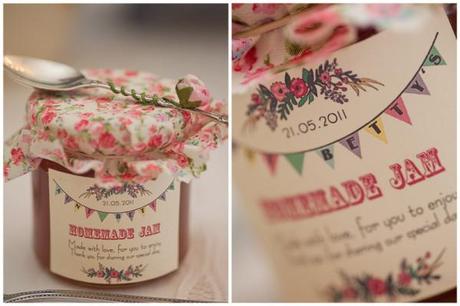 … and Jerk seasoning wedding favours for the men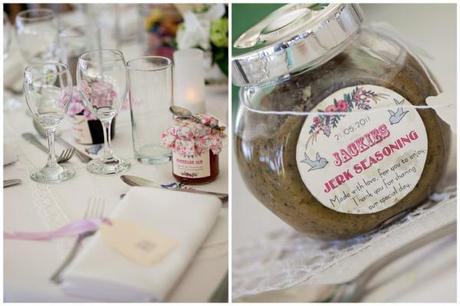 While the ladies had their little jars of jam, Gareth decided to give the guys similar favours: an inspired idea from brother-in-law Darren, Jerk seasoning in jars added a twist of Caribbean flavour and the theme for the wedding day was born! Jerk and Jam… I love it! Gareth's mum and dad picked up all the ingredients and the Jerk seasoning was made by Jackie, his mum.
Happily Ever After decorated letters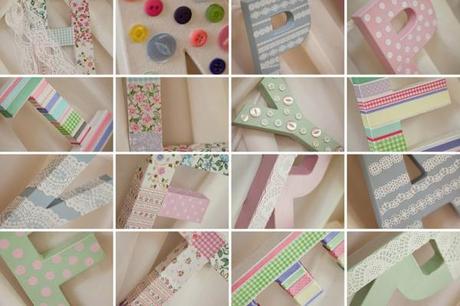 Sally's sister Lucy decorated cardboard letters reading 'Happily Ever After' which hung behind the top table. They're so cleverly decorated with coloured printed papers, lace and ribbon – and the display looks gorgeous.
A creative heaven of an English wedding venue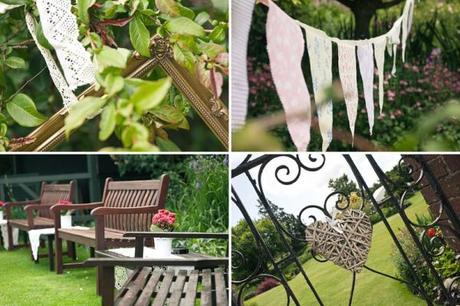 Sally and Gareth chose Parley Manor wedding venue because it had a lovely walled garden, and they were given free rein to decorate as they wished. Sally's creative talents really are amazing – and I hope some of these fabulous ideas inspire you too.
Vintage inspired bridal accessories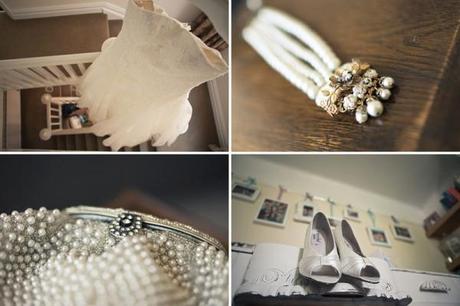 Sally found a reworked vintage necklace with pearls and gold when she was on her hen weekend in Bath. It complimented her Enzoani wedding dress and the lovely pearl beaded clutch bag which one of her bridesmaids and oldest friends had lent to her as her 'something borrowed' for the day. The bridal shoes came from New Look – and I agree with Sally's logic here: they're hidden under the dress, spending the day on a lawn, and less expensive shoes means more gorgeous bling and vintage accessories for the day!
… and knicker bunting!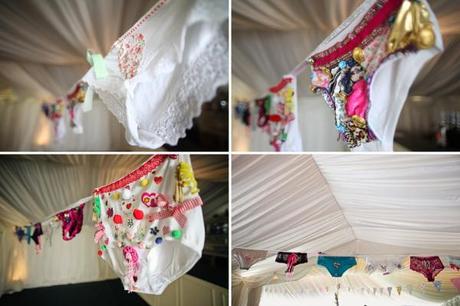 Knicker bunting is a new one on me… I love it for a creative wedding idea and what a talking point! Sally's sister Lucy had arranged a fantastic themed hen night including loads of girly things to do – with knicker bunting a part of that. All the girls bought new pants and set about decorating them with buttons and ribbons, sequins and pom poms… the result? Very, very special pants indeed. Too good to wear, wouldn't you agree?
Thank you…
With thanks once again to Sally for sharing, and to wedding photographer Dwiko Arie for the gorgeous photos.
Sally has written a full report of her wedding day inspiration and ideas for Dwiko's own blog, and there is much more over there – so please visit http://dwikoarie.blogspot.com/2011/06/jam-jerk-wedding-planning-by-sally.html to see all her fabulous ideas and read more.