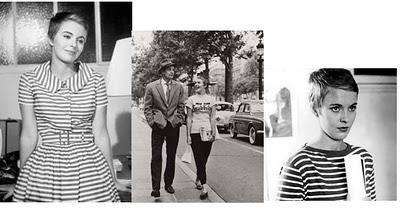 Screen shots of Jean Seberg in Breathless
Jean Seberg is my ultimate style crush, from the cropped hair to her delicate elfin features I consider her to be a true timeless beauty. I am a bit of a film geek and a huge fan of the film Breathless. This new wave masterpiece is still chic, sleek and modern and to me Patricia Franchini is the epitome of cool. When I first visited Paris I had visions of strolling down the Champs-Elysees recreating Patricia selling the New York Herald Tribune. Both the film and the fashion featured in it are timeless and it is easy to recreate Patricia's look with some budget items on today's high street.
The main styles sported by Jean Seberg in Breathless are:
v

  
Vertical stripes often with a slight nautical feel, especially on basic long sleeved tops and dresses.
v

  
Slim- fitted trousers teamed with ballet pumps.
v

  
Peter Pan collars on dresses, which are very fashionable at the moment.
v

  
Block colours, no patterned prints.
v

  
A mac, trilby and oversized sunglasses are essentials.
Here are a few items I've found online that I feel are reminiscent of Patricia in Breathless.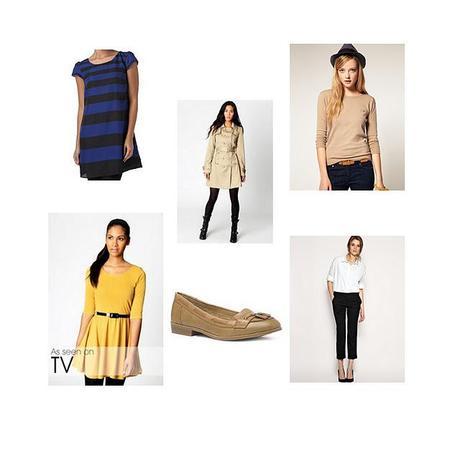 Top left: Striped tunic from New Look, Bottom Left: Skater Dress from Bohoo.com, Top Middle: Trench Coat from Bohoo.com, Bottom Middle: Loafers from New Look, Top Right: Basic jumper from ASOS.com, Bottom Right: Cropped trouers from ASOS.com
v

  
The mustard dress is adorable. The knee skimming length and block colour is a perfect homage to Jean Seberg. This belted midi skater dress is bargain at £15.00 from
Bohoo.com.
v

  
I am absolutely in love with this trench coat, so much so I think I'm going to ask for it for a birthday present. This trench coat is perfect for Autumn/Winter and will add a chic touch to any outfit. Bohoo.com is my current favourite website for gorgeous and affordable clothes. This trench coat is £40.00 on
Bohoo.com.
v

  
One of my favourite ways to channel Jean Seberg is to wear horizontal stripes. This striped satin tunic is from New Look and costs £24.99.
v

  
Slim fit trousers are a must have and these ASOS cropped trousers are the perfect pair to add Parisian chic to your wardrobe. These tailored slim- fit trousers are from
ASOS.com
and are £30.00.
v

  
Team these trousers with a basic jumper or an oversized white shirt. I like this ¾ length sleeve jumper from ASOS for £20.00. In Breathless Patricia teams slim- fit trousers with ballet pumps. A great alternative to pumps are these loafers that are currently on sale at New Look for £15.00.