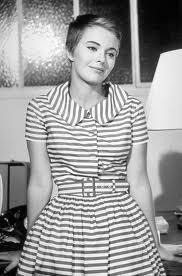 Jean Seberg in Breathless
Every so often I get stuck in a style rutt. No matter what I wear I don't feel right, none of my clothes feel comfortable, I can't style my hair, when I put makeup on I feel like a drag queen and if I go with the minimal look I look like a boy.
When comparing this problem to those going on in the wider world it may seem a trivial concern, however in the microcosm of my world it does affect my confidence and mood.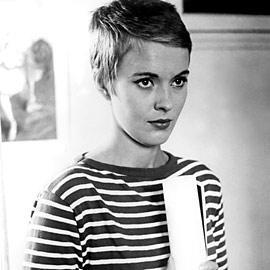 Taking this into consideration I've decided to nominate and share some of my style icons and inspiration, both past and present. Most of them are women with short hair because I have just gone from long hair to a crop and sometimes a change in hair cut can leave you in a style abyss.
My all time style inspiration is Jean Seberg playing Patricia Franchini in Jean Luc Goddard's new wave masterpiece Breathless. The sixties fashion in the film is very simple and chic with the protagonist wearing trilby hats, horizontal stripes, trench coats, flat pumps, skinny cut trousers and oversized sun glasses, all of which you can find on today's high street. Her innocent doe eyed look, complete with dimples and elfin crop enhanced with lingering close ups of her face make it hard not to fall in love with her.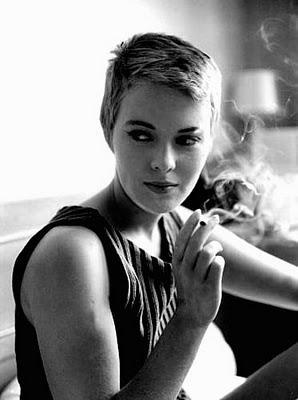 Jean Seberg's makeup was subtle and understated, for a fresh and healthy look. To get the look a clear complexion is a must, especially with super short hair. Use Jillian Dempsey by Avon's Corrector Palette to disguise any redness or blemishes and even out skin tone with a good foundation. Never Too Broke For Beauty's current favorite is Maxfactor's Smooth Effect Foundation.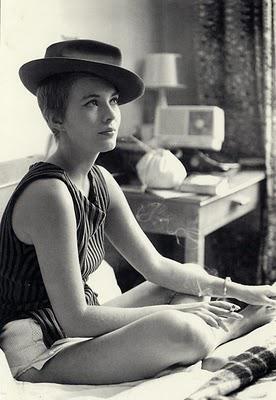 Eyes should be enhanced but remain subtle, a neutral eye palette of nudes and browns could be used. Either line the top of the eye with Barry M's Wink Marker Pen eyeliner or use Boots No 7 Amazing Eye Pencil in brown for a softer look.  I'm loving Maxfactor's Fake Lash Fusion Mascara to give lashes length and volume and give eyes impact.
To achieve this look you need a  healthy glow. Use a cream blush in peach or pale pink or use Sue Moxley's Shimmerbrick in pink to create the ultimate healthy shimmer.  Finish the look with a subtle pink or nude lip paint, I like Collection 2000's Cream Puff's in Powder Puff or keep it simple with a touch of clear gloss or lip balm.
Jean Seberg had a beauty that is rare and no one wears a crop quite like she did. I  love Jean Seberg's look, style and the quiet confidence she exudes in this film.I'm looking to Jean to help me embrace my short hair and get me out of my style rutt!  Who is your style inspiration?
Keep an eye out for my upcoming post about dressing like Jean Seberg.