I've already told you about some kinds of energy sources we 

could

turn to in the future. This time, I'm going to write on BIOFUELS.
You could extract biofuel from many plants. (Sunflower, for instance) But as for biofuels
If this jatropha is cultivated in a greenhouse, and then the fruits are taken, and then, the seeds are separated. The seeds are then processed in various steps.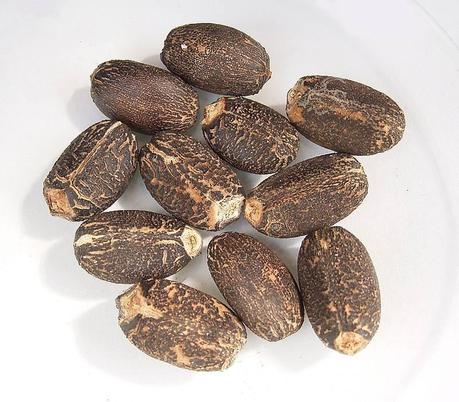 Jatropha Seeds.
Photo courtesy-Frank Vincentz
First, the seeds are sent to a de-huller, thus removing the hulls.
The de-hulled seeds are then sent to be extracted for oil in an oil press. Thus, you get non-refined, SVO or Straight Vegetable Oil. This is again refined by use of chemicals, and undergoes a process called trans-esterification. The by-products you get are the Seed cakes(from the oil press) and Glycerin in the final step, which can be used to make cosmetics.
Now for the real use of the final product- refined oil, which can be used directly on any diesel engine. The advantages-?
The using of this biodiesel doesn't produce any Sulphur Dioxide or harmful substances, although initially, the jatropha seeds are poisonous. Also, Carbon Dioxide emissions are almost 80% lesser.