Looks like the boys in Jason Aldeans camp need to be slowin' it down ...
Looks as though one of the Aldean's equipment truck drivers lost control of the truck and had a run in with a ditch between Kamloops and Prince George. Thankfully the driver escaped with just minor injuries.
And it seems that Aldean's representatives have just made the announcement that tonight's concert in Prince George has been moved to Wednesday night (Oct. 7) with all tickets for the original show will be honoured.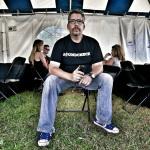 Well if your reading this you must really be bored... So I was born and raised in a small town and have a thirst for good Canadian Whiskey and amazing Country Music.