With the dismal global economy nabbing headlines daily, it's refreshingly pleasant to get some good news. For the first time since 2007, Japan's luxury market is on the upturn.
According to Bloomberg, 2011 might bring a 2% uptick for Japan's luxury goods sales. This follows a "contraction that started in 2007 and wiped 14 percent off the industry's value in the world's third-largest economy."
This $25 billion market is fueled largely by status-conscious young people who set trends – expensive trends. According to Bloomberg, "Almost 50 percent of all Japanese women over 20 own a Vuitton handbag, MF Global estimates."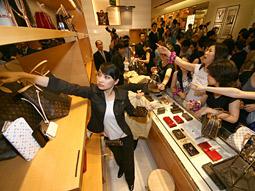 via AdAge
Another factor in Japan's luxury goods growth is the emerging boom in the Chinese luxury goods market; tourists from China visit Japan and spend "as much as 15 billion euros [over $20 billion] on luxury goods outside their home market."
The brands that are reporting increases in sales include Ferragamo (whose Japanese sales account for 13% of its total) with 1% and LVMH (which owns Louis Vuitton and is the world's largest luxury goods producer) with an 18% increase.
The market has attracted other global luxury brands like Versace and  Mulberry (who are "close to signing a distribution deal" securing a "10-year accord [that] anticipates the opening of multiple shop-in-shops within the IMH network as well as new flagship stores in Tokyo and Osaka."
To read the entire story, click here.
Liz for Raymond Lee Jewelers, your source for luxury goods, designer jewelry, and pre-owned luxury timepieces.