January is always a little pants, to keep myself sunny I have thrown myself into work and working out. The week has literally flashed by. I have my summer plans pretty much cemented in the form of a 7 week adventure with my man traveling Malaysia and Thailand, and I am so exited!It will be my third time to South East Asia and each trip is nothing short of a love affair.
Unfortunately being an "independent woman doing it for herself" these things don't pay for themselves so I am being even more careful than usual, but that doesn't mean I cant look right.
Below are a list of little things I will almost certainly purchase this year but cant justify to myself at this very moment. Do let me know what takes your fancy....!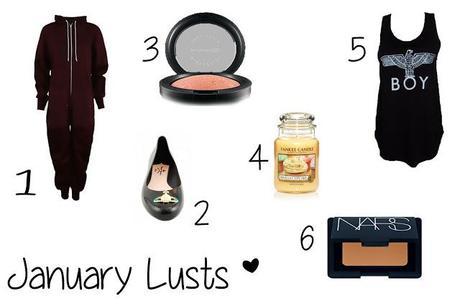 1. Cosy Burgundy Onsie 2. Vivienne West wood Flats3.
MAC MSF Stereo Rose
4. Yankee Candle - Vanilla Cupcake5. Boy London Vest6.
Nars Laguna 
Its been snowing for days now and getting up for work in the cold is becoming a drag. With the weather being as chilly as it's been it seems a no-brainer to invest in this onsie. It looks so cosy and the perfect item to keep warm around the house of a weekend drinking tea and blogging. Burgundy is still really doing it for me over Autumn/Winter but the Ebay buyer has a range of different colours available.

It was looking at Victoria's (VIPXO) post that these really grabbed my attention. I really like the idea of a luxury pair of flats and I love the Vivienne Westwood logo on the toes. If I were to treat myself these shoes would certainly be the first port of call.

Now this is an item I am DYING to get my hands on but it is out of stock EVERYWHERE. After days of stalking the MAC website I am yet to see Stereo Rose in stock. Stereo rose is an MSF that gets a lot of positive press and I would love to get my hands on this.

Before Christmas I had a mini spend in the Yankee store and after agonising over whether to purchase a jar or a few minis, I got myself a few Christmassy minis. Vanilla cupcake is such a sweet scent and I get completely caught up in its deliciousness. There's nothing better than lighting a sweet smelling candle on a cold winters evening.

Ever since I saw Rhianna head to toe in Boy London on Jonathan Ross over a year ago I have wanted one of their vests. Completely inappropriate unless under a multitude of layers in the current climate I anticipate purchasing myself one of these over the Spring/Summer months, I really like the edginess and simplicity of Coy London's brand.

After nothing but love for Benefit's Hoola I would really like to try Nars' Laguna. I have heard nothing but good reviews on this bronzer as a contour color and have read a multitude of reviews proclaiming these as comparable. I have a few Nars products and despite the initial price tag I really like the quality of the brand. There's nothing better than giving washed out pale skin a kick with a sweep of bronzer of a morning!
What are you lusting after?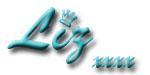 Facebook | Twitter | Bloglovin | Hello Cotton