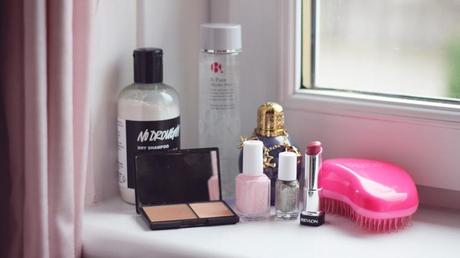 We're at the end of January already and I can't quite believe it! It feels like no-time since we were celebrating Christmas and New Years but hey ho, January has definitely been a busy one. There are quite a few new products in this month's favourites and a little reminder of a few more as they were rediscovered during the month so I'll stop waffling and just get straight into it.
I have only got a couple of makeup products included this month as I've really just been using the same things all the time and I don't want to keep droning on about the same products, but these two definitely stood out to me throughout the month. The Sleek Contour Kit was a product that I had loved but somehow forgotten about, at least until I got the sudden urge to start contouring again and had to get this bronzer/highlighter back out of the drawer. The bronzer shade in the light kit is great for my pale skin as it doesn't look muddy or orange at all and the highlighter gives you a lovely glow which is always a plus. The only other makeup product in this month's favourites is the Revlon Lip Butter in Berry Smoothie which has become my go-to lip color for winter. It's a natural looking light berry shade which is perfect for people like me who shy away from bolder colours, and I love the consistency as it is nice and moisturising for the lips.
For nails I have been loving two polishes, both from Essie. The first is Fiji which I spoke about in my last post and it is just the perfect pale pink. I'm so glad that I finally managed to get my hands on this shade as I've fallen in love with it already and I know I'll get so much wear out of it since it's a pretty universal color. The other shade is Beyond Cozy which was from the 2012 winter collection and has quickly become my favorite glitter polish. I was never much of a fan of glitter polishes but ring finger manicures have eased me in, and now I find myself trying to jazz up solid colours with glitter a lot of the time. Beyond Cozy is an unusual one as it is a mix between a gold and silver glitter which goes on very opaque and has made its way onto my nails so many times already.
I'll group the last few products together as they're more hair/skincare related. The first of these is the Lush No Drought Dry Shampoo which has now replaced Batiste for my dry shampoo needs, crazy I know! I wanted to give the Lush version a go as you get so much powder in the bottle as opposed to a can of Batiste which runs out pretty quickly and although application was a bit harder to get used to initially, I now find that I can't be without this dry shampoo. My other hair favorite has been my Tangle Teezer as I realised just how lost I would be without this brush. My hair isn't very thick but there is a lot of it and it is pretty long now so it tends to get tangled very easily, but this brush gets rid of tangles so easily with minimal pain. I've had my Tangle Teezer for a year now and I don't think I could go back to an ordinary hairbrush now. I've also been loving the B. Pure Micellar Water which I recently raved about, and this has been my makeup removing savior over the past couple of weeks. It is a gentle cleanser that takes makeup off with no bother at all and has left my skin feeling lovely and fresh, especially great during the winter months when my skin has turned into a dry mess. My final favorite is Taylor Swift's perfume Wonderstruck as it is just such a gorgeous floral and fruity scent that has quickly become my most reached for perfume. Whether you're a Taylor Swift fan or not, I'd definitely recommend this perfume if you're a fan of sweet scents!
What have you been loving this month?