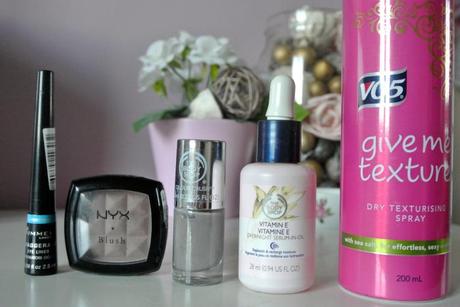 Today's post was going to be a review of one of the NARS Velvet Matte Lip Pencils, but I've decided I'm going to attempt to take an actual photo of my face wearing the product! Since today is a lazy Sunday and I'm sat wearing pajamas with greasy hair, that won't be happening today, so instead here are my favorite products I've been loving in January.
First up is the Rimmel Exaggerate Eyeliner I mentioned in my last post (life proof makeup). As someone who wears eyeliner every single day of my life I love trying out new ones, and this is definitely one of the best I've ever tried. The formula is long lasting, it's super black and easy to apply. What's not to like? I've had a bit of a revolution when it comes to waterproof makeup and I'll definitely be opting for it more in the future!
I've never been someone who is massively into contouring, but lately this NYX blush has barely left my face. This shade is Taupe and it's perfect for us pale skinned ladies who don't need anything to warm or orange toned! It's hard to describe the colour, a mixture between a gray shade with an ever so slight bit of red in it, basically it's the exact color of a natural shadow. I've had it for a while but never could get used to it, but after forcing myself to wear it this month I've really fell in love with the whole chiseled cheek thing!
I've raved about this Body Shop nail polish before and after going a little while without wearing nail polish over Christmas I've fallen back in love with it this month. Gorgeous gray is perfect as an everyday neutral shade, but if I'm honest I'll happily wear this no matter what the occasion. The Colour Crush nail polishes really do look like you're wearing gel nails and they are so long lasting, I just wish my nails were a bit longer so they'd look even nicer.
Another Body Shop product and this time it's skincare, in the form of the Vitamin E Overnight Serum-In-Oil. Oh. My. Word. This product is like heaven in a.. jar? I absolutely love it and don't want to say too much as there will be a full review going up in a week or two, but it's done absolutely wonders for my skin. I use it every night and the next morning always wake up with fresh, clear and smooth looking skin. I'M IN LOVE!
Lastly, a hair product, the VO5 Give Me Texture Texturising Spray. I can't even remember when I bought this, it's been shoved to the back of a drawer for a while now, but since getting a fringe at the start of the year I've felt like my hair was a bit flat and lacklustre so dug this wonder product out to give it a bit of somethin'. I like to spray it at the the roots of my hair, doing a few different layers, and you can see the results instantly as your hair seems to magically gain volume! This is a hairspray too so holds in place for a little while, although it doesn't last all night and does leave your hair feeling a little sticky and weird the next day. Don't let that put you off though, if you've got flat hair like me I'd definitely recommend giving it a try!
What have been your favorite products of this month? Leave your January favourites blog posts below for me to check out :D