Several months ago my husband started a new position at work.He now spends some days in the office and others out on the road.His first week at the office he comes home and says, "You know the other guys wives make treats to take in to the office so if you can start making stuff to take in that would be great."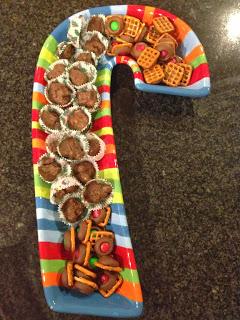 Well I have tried to live up to the standard of making sure my man has goodies to take into work. This summer I picked apples from the tree in our backyard and made homemade applesauce. This was a big hit!I also made homemade salsa.Mine was a little plain so my hubby added more jalapenos to the mix to spice it up. Then it was good. I have made several types of cookies, candies and even a cheesecake.Today one of my gifts was a plateful of homemade candies.It included the pretzel/rolo/M&M candies I mentioned yesterday and then Trisha Yearwood's Crockpot Candy.Note to self on the Crockpot candy, only cook for 2 hours instead of the recommended 3!
Today was also cleaning today. I am blessed enough to have someone clean my house once a month.I know what you are thinking, "her house only gets cleaned once a month!?" No, my husband and I clean it the remainder of the month, it's just nice to have a break every couple of weeks. Anyways, we have a 90lb German shepherd, Boss.For the most part he spends his days either in the police car or in his indoor/outdoor kennel in the garage.If you live in the Midwest you know it has been like living in the arctic around here lately. Due to the cold weather we keep Boss in the house most of the time.He sheds like crazy. I'm a bit of a neat freak so his hair drives me CRAZY!Last night I was glad the housekeeper was coming because I needed to vacuum and I knew she would clean it up.But when I got up this morning I thought, no you are going to vacuum the carpets and sweep up the hardwood and tile floors of the dog hair to make her job a bit easier.So I did just that. Not a glamorous gift, but still a gift!
My final gift I will blog about later as it is something this journey has taught me.Check back later to find out!
Blessings,
Stephanie