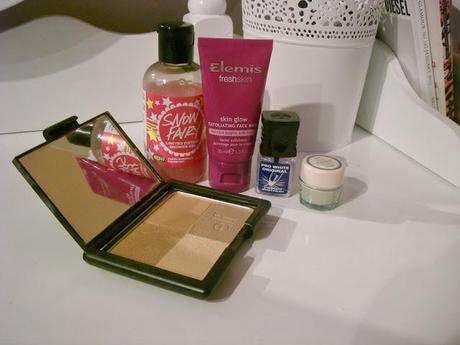 I'm so happy January is over if I'm honest - it hasn't been a bad month at all but I'm fed up of being cold. I'm also fed up of being poor - for some reason January is too long and I'm in need of a pay day urgently. I've vowed to cut down on my spending and February will be all about getting deals and only buying the things that I have run out of not just adding to my beauty hoard - o and quite a few empties post hopefully. 
I'm still loving the Lush snow fairy shower gel it makes showering a much sweeter experience  I'm going to be a little sad when this runs out as it was limited edition but I will be making a note to stock up next Christmas. I've been wearing the ELF studio golden bronzer pretty much everyday. I've dropped the tan out this month and this little quadrant of bronzing colours gives my skin the loveliest and most subtle of glows. 
My nails took on a horrible yellow tinge after abusing them with stupid amounts of nail varnish over the Christmas period and the pro white original has been a little savior. My nails are back to white and feeling healthier than ever. I've really enjoyed using this and keep it in my handbag as it drys so fast and is good to keep bare nails looking shiny. 
I've also been giving the Benefit skin care mini's a trial this month and I've really been enjoying using the It's Potent eye cream. I'm not entirely sold on the need for eye creams but I've loved using this so far. It leaves my eyes looking a lot brighter and the skin feels more soothed than it does just from moisturiser. 
Finally I've been loving the Elemis Skin Glow Facial Wash that I received in this months Glossybox. I've only had it over a week and I've nearly finished it. It's so lovely to refresh skin and brighten it up. For me it has the perfect amount of exfoliating beads in it and doesn't leave my skin feeling tight at all. I think this will be one of the products I'll be missing once this sample size version is over.