The months supply of inventory in December showed a seller's market for the first time since 2004... and January is a repeat with a 4.6 month supply.  Pending sales, which predict future sales, are the highest they have been in January since 2007... and even bumped up rather than down, from a higher holiday low than in recent years. These are good signs the market continues to move towards balance.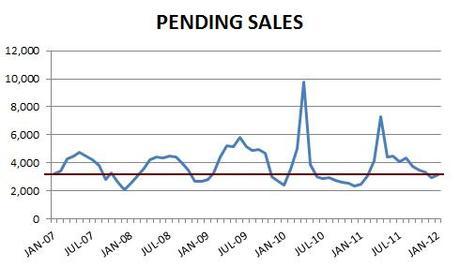 The total number of homes for sale continues to be low, not this low since 2004 when it was a strong seller's market.

A big reason for the low supply of homes for sale is the decline in the number of traditional homes for sale, dramatically illustrated in the chart below generated by THE THING data analytics tool of the Minneapolis Area Association of Realtors.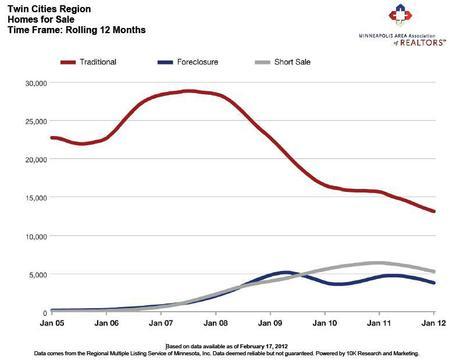 The increase in short sales is an indication of part of the reason traditional listings are down... homeowners who would be selling and moving in a traditional market are stuck in a house that is underwater.  They aren't having trouble making their payments and can afford to buy another home... they just can't afford the loss they would incur if they sold their current home.
And so the market stalls, causing median price to drop because of the higher percentage of foreclosures and short sales.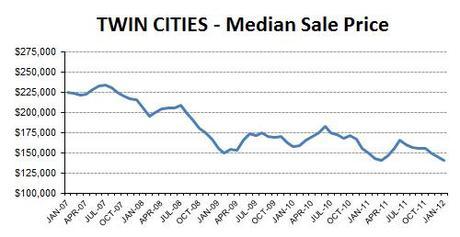 Of course, there is always a flip side and that is soaring affordability caused by low prices and low mortgage interest rates.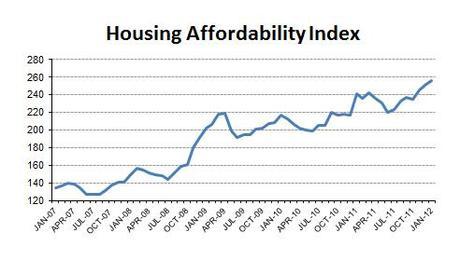 These conditions are bringing more buyers into the marketplace, especially favorable for renters who don't have a home to sell and are facing rising rents. Price-to-rent ratio tips towards buying rather than renting
The question is, will this demand bring more traditional sellers into the marketplace... what is needed to strengthen prices and loosen the market log jam. There is a palpable sense the real estate landscape is shifting... it will be interesting to see how it plays out as we move into the sixth year post housing bubble.
The figures above are based on statistics for the combined 13-county Twin Cities metropolitan area released by the Minneapolis Area Association of Realtors. Click here for local reports on 350+ metro area communities. Click here for current interactive market analytics by area, city, county, neighborhood or zip code.
Sharlene Hensrud, RE/MAX Results - Email - Minneapolis - St. Paul Real Estate Market Information