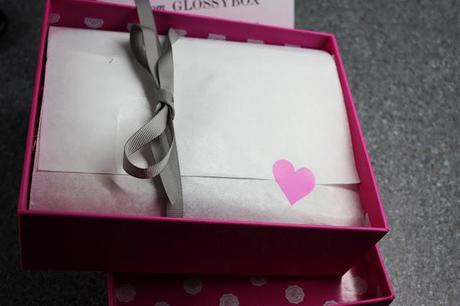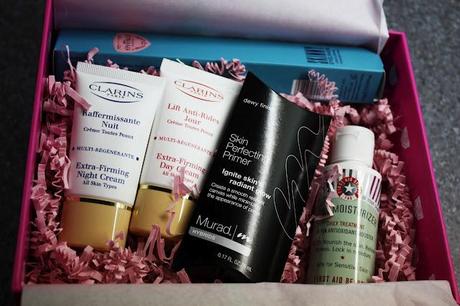 As many of you have also commented on, this months GlossyBox has taken it's time coming! And I'd really love to be cynical (as it's that time of year) about how it was definitely not worth the wait - but I would be lying. This is by far my favorite box since it's launch. Of course, this being my second one, means I haven't tried out the previous boxes, but I've read enough reviews to have a good idea as to how good each individual box was!
Without further ado, I shall crack on!
CLARINS Extra Firming Day Cream £46 for 50ml
I was overly surprised to see TWO products from Clarins in my GlossyBox! Not just one ladies! As many of you may already have read, I love to use products which have an instant effect (whether it's fake tan or toners) and this product does not disappoint. I felt as if it probably wouldn't work straight away as it says to apply every day (and normally it REALLY means it may not work first time trying but if you persevere, you will see results) but surprisingly my face became incredibly smooth and luxurious in a very short period of time i.e. from my dressing table to my wardrobe. There is a slight tightness to it, but not so it feels as if you've been injected with fat from your arse. This creates a lovely smooth base for makeup application.
It also didn't kick up a fuss with  my sensitive skin!
8/10
CLARINS Extra Firming Night Cream £48 for 50ml
This is very similar to the Day Cream but with slightly more moisture added. You know it's a keeper when you find yourself waking up with THE smoothest skin and no spots have appeared overnight - especially for a night cream which tends to have more oil/moisture in it. My skin felt super smooth after applying this last night and then with the Day Cream on top!
Although slightly more expensive, this night cream ticks the boxes. It's light, it's moisturising, keeps the grease at bay and also tightens up your skin to feel rejuvenated.
8/10
FAB Body Moisturiser £13 for 227g
I must say, I'm definitely a Body Shop Body Butter kinda-gal. I will occasionally purchase the odd randomer (in moisturisers) but will always stray back to Body Shop in the end - purely because I feel they work and they also make me want to eat myself. This, however, is very much a surprise to me. I didn't expect it to work.. At all.. It doesn't smell (only a slight chemical scent which is hardly noticeable), it doesn't scream THIS IS THE ONE.. But somehow, as I was casually feeling my skin earlier, I was like... WOAH. I'm incredibly smooth.. It's not normal for me to be smooth as a tabletop, I've got slight chicken bumps on my arms and can't seem to get rid of them, but this, my friends... works wonders! Only ONE application and I'm seeing a difference! For £13, it made such a difference to my skin and I think I'll be repurchasing the full size!
Shame about the small sample size though!
9/10
MURAD Hybrids Skin Perfecting Primer - Dewy £29 for 30ml
Where to start..
This tiny, tiny sample gave good results. There.
It's slightly tinted in colour, seems slightly water-based and created a good base for makeup. Does it compare to other Primers? Maybe.. I personally didn't feel a difference, apart from easier foundation build-up but my boyfriend (who does stare at my face) told me my skin looked "glowing", I repeat "glowing"..
So .. It may be worth another try! I'll be caking it on so I look like a light bulb when he next sees me.. *bad joke*..
I rate it: 5/10
My boyfriend rates it: "a solid 8/10"
EYEKO Skinny Eyeliner £9.50 - Mine was 'Powder Pink'
I was SOO happy that I received a pink eyeliner.. Ecstatic more like! I'd wanted a reasonably flesh-toned eyeliner for a while, to cover up red eye sockets (how graphic does that sound!) I would have preferred an actual flesh-tone but pink is near enough... I'm still getting to grips with using one, as I don't ever use eyeliner.. But the long metal handle really helped me keep my hand steady..
I'm not entirely convinced that the long handle is actually at all sensible because when it's not going in your handbag, it could be used for a weapon. Not cool... But when at home, it is handle to have the extra length.
I didn't see a dramatic difference in my eye redness, but perhaps I need to apply more.
The waxy consistency is really durable though and easily blendable (not a real word buy hey)!
6/10
Although all these reviews on the products seem overly loved, I can rest assure you that I have by no means overrated these products in my opinion. My skin may work differently than others so what works for me, might not necessarily work for you. If you're subscribed to GlossyBox, I hope you liked your Valentines GlossyBox! I loved mine!