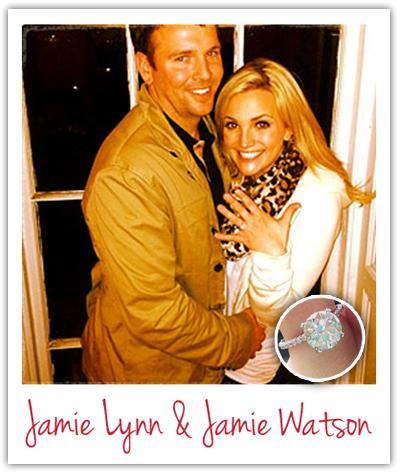 Britney Spears little sister Jamie Lynn made an official announcement that she is engaged to Jamie Watson on Instagram. Jamie Lynn posted a picture of the happy couple to the popular photo-sharing app on Saturday evening. This image was accompanied by a message: "Guesssss what??????"
She later uploaded a picture of the beautiful diamond ringalong with the hashtag, "#hedidgood."
The actress was previously engaged to Casey Aldridge with whom she has a four-year-old daughter Maddie. She and her little girl split their time between Nashville, Tenn. and Kentwood, La.
"Maddie goes to school in the Kentwood area, so Jamie Lynn tries to be in Louisiana most of the time."
Jamie Spears appeared on the Nickelodeon sketch comedy series All That towards the end of its run. After her work on the show was finished, she snagged the starring role in Zoey 101. The hit show ran for a total of four seasons.
The former Zoey 101 star took a break from her career to focus on motherhood after getting pregnant as a teen, but lately she's been trying to kick off a country-music career and lives in both her hometown of Kentwood, LA. — at Britney's mansion — and Nashville, TN.
Jamie Lynn Spears is currently working on a country album. Although reports surfaced last year that it would arrive in 2012, but it never came to fruition.
The actress debuted a song entitled "I Look Up to You" at a showcase in Nashville last summer, reportedly a tribute to her older sister Britney.
The singer and actress, 21, has been dating Watson, 30, on and off for three years now. The gorgeous ring Watson picked out for Spears has a brilliant cut round cut center solitaire with a string of diamonds along the band.
Congratulations to the happy couple!!!