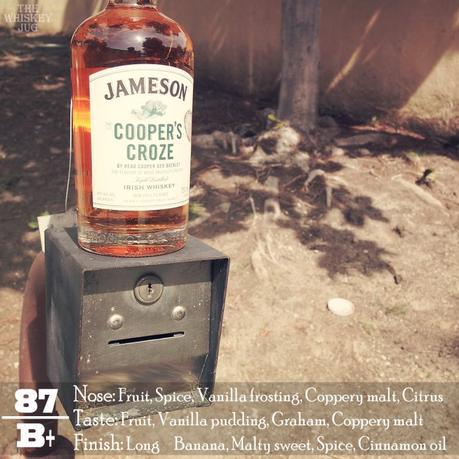 Jameson Cooper's Croze is one of Jameson's latest releases and its creation comes in part from their head Copper. If you're not familiar with the job of a Copper it's essentially the guy who makes, or in this case re-assembles, the barrels and casks for whiskey to be aged in. Coopers do make barrels and casks for things other than whiskey… like sherry, port or wine.
In Midleton's Words: Jameson Cooper's Croze
"Our 5th generation Head Cooper, Ger Buckley, knows everything there is to know about wood, casks, butts and barrels. To celebrate his passion for Coopering, we have created The Cooper's Croze, the first of the Whiskey Makers Series to launch in the U.S. Focusing on the profound influence the wood yields on a whiskey's character, The Cooper's Croze uses virgin American oak, seasoned bourbon and Iberian sherry barrels.

The whiskey's namesake – the croze – is named after Ger's favorite tool, an implement used to make the groove into which the head of the cask or barrel is positioned."
Not much else to say about this one so let's hop on down to the Jameson Cooper's Croze review!
Jameson Cooper's Croze Info
Region: Ireland
Distiller: Midleton
Mashbill: Blended Irish (Single Malt + Grain Whiskey)
Cask: New Charred Oak, ex-Bourbon & ex-Sherry
Age: NAS
ABV: 43%
Non-Chill Filtered | Natural Color
Price: $70*
Jameson Cooper's Croze Review
EYE
Honey
NOSE
Fruit (apples, bananas, apricots, coconut), spice, vanilla frosting, coppery malt and citrus layered with light bits of fresh waffle cones and alcohol.
PALATE
Rich and fruity with bits of vanilla pudding, graham crackers, coppery malt, toasted grains and a dusting of citrus peels, spice and alcohol.
FINISH
Long fade of banana heavy fruit, malty sweetness, spice and cinnamon oil.
BALANCE, BODY & FEEL
Well balanced, full body and a thick oily feel.
OVERALL
The biggest question I have about the Jameson Cooper's Croze is why is this so hard to pull off? Higher proof and NCF makes this stuff gorgeous. Basically mess with it less (i.e. do less work / use less equipment) and it comes out so much better. Yes there's the selection of the different barrels and the virgin oak at play as well, but if everything from Jameson, and Bushmills, were released at 43%+ and NCF we'd be looking at a much different category.
I love the fruity character of Irish whiskey more than the fruity character of Speyside and getting an elegant delivery of that makes me happy. Yes there is a similarity, but when left alone I find the buttery nature of Irish malt whiskey (Single Pot or Single Malt) to be more decadent in delivery. It's one of the reasons I've been such a big proponent of the category over the years. I'm not thrilled with the price of the Jameson Cooper's Croze, but it's a lovely whiskey.
SCORE: 87/100 (B+)
*Disclosure: This Jameson Cooper's Croze was graciously sent to me by the company for the purposes of this review. The views, opinions, and tasting notes are 100% my own.