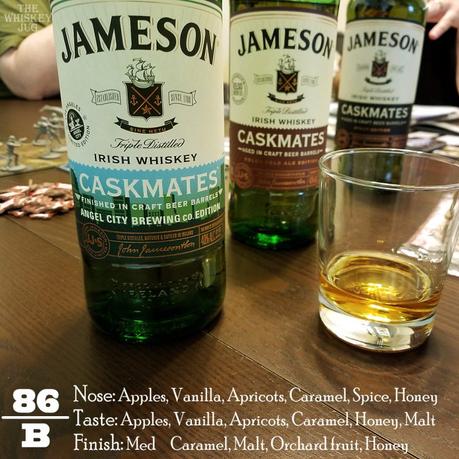 Jameson Caskmates Angel City is the latest in the Jameson Caskmates series and is available only in Los Angeles. While this particular whiskey is unique to the LA market it's not wholly unique in its arrival. Jameson has partnered up with other breweries in other major cities to collaborate and release unique versions of this whiskey in New York, Dallas and Denver.
In Angel City's Words: Jameson Cask Mates Angel City
"Jameson gets a lot of ex-bourbon barrels since they can only be used once to make bourbon. A lot of them end up getting shipped to Ireland or Scotland to be used for whiskey, where they're filled and aged for three or more years… So needless to say, the oak for this whiskey has racked up quite a few stamps on its passport – from Kentucky, to Cork, to DTLA, and back to Ireland."
So far I've had three of these, but I would love to get my hands on the others in the line up as well as a bottle of the beer that was first aged in the Jameson barrels. I think it would be fascinating to taste it all side-by-side and see what notes come from the whiskey, what notes come from the beer and what notes are wholly unique to the combination of the two. Ah dreams, anyways, on to the Jameson Caskmates Angel City review!
Jameson Caskmates Angel City Info
Region: Ireland
Distiller: Jameson
Blend: Irish Single Pot Still Whiskey, Irish Single Grain Whiskey
Cask: ex-Bourbon and ex-Beer barrel
Age: NAS
ABV: 40%
Price: $40
Jameson Caskmates Angel City Review
EYE
Light caramel
NOSE
Quite light and fruity with notes of apples, vanilla, apricots, caramel, spice, honey, pear malty sweetness and a touch of grain. It's perfectly pleasant, but definitely light.
PALATE
Mimics the aroma with with notes of apples, vanilla, apricots, caramel, honey, malty sweetness and spice but with some added toffee. Still a touch of grain, but also some citrus peel, wax and an earthy underpinning.
FINISH
Medium fade of caramel, malt, orchard fruit, honey and alcohol. The beer really shows up towards the end and it registers to me as a nice malty beer before it disappears.
BALANCE, BODY & FEEL
Good sense of balance, medium body and a very light, almost watery, feel.
OVERALL
The Jameson Caskmates Angel City is quite good despite being quite light. It's balanced with a nice progression from the sweet nose to the malty palate to getting wrapped up in sweet malty beer fade out. It's an interesting and fun whiskey and if you're in Los Angeles and looking for something new and different to try pick this up. It's perfectly enjoyable and has become a nice addition to my Irish Whiskey stash.
SCORE: 86/100 (B)