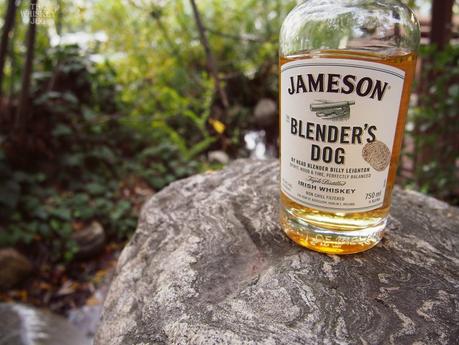 Jameson Blender's Dog is the latest release in the Jameson Whiskey Maker's Series. They never release specifics, I REALLY whish they did, but it tastes like it has a significantly higher portion of malt to grain in the blend compared to the standard Jameson. It would be great to know exactly how this differs from the standard and the Cooper's Croze and lend a better basis of understanding.
It's times like this when I feel like the whiskey industry is failing its fans a little… ok more than a little. A lot. We want to know and that knowledge isn't going to damage your brand. Knowing that standard Jameson is 80% grain and 20% malt (just guessing here) isn't going to make me like it any less and knowing this Jameson Blender's Dog is 50% grain and 50% malt with 50% of the malt casks being sherry (again just guessing) won't make me like it more or less, but knowing what I'm drinking will make me like your company even more than I already do.
Whiskey Review: Jameson Blender's Dog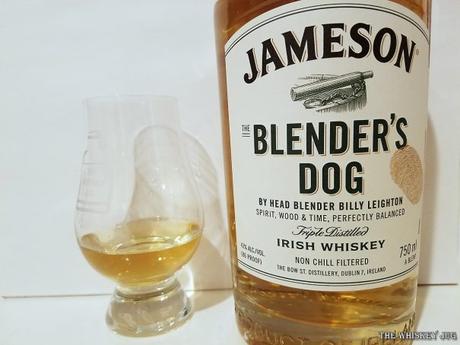 In Jameson's Words: Jameson Blender's Dog
"We're not sure if our Head Blender, Billy Leighton, has a musical note in his head but harmony is his main pursuit. The Blender's Dog is a whiskey that celebrates his craft the art of marrying whiskeys. A superbly balanced, complex whiskey, The Blender's Dog is a perfect balance of spirit, wood, and time; delivering butterscotch sweetness with a prickle of spice and tannins. Making whiskey requires a fair deal of science, but blending is an art."
Jameson Blender's Dog price, ABV, age and other details
Region: Ireland
Distiller: Midleton (Jameson)
Mash Bill: Single Pot Still Irish Whiskey + Single Grain Irish Whiskey
Cask: ex-Bourbon and ex-Sherry
Age: NAS (3+ Years)
ABV: 43%
Non-Chill Filtered | Natural Color
Price: ~$70*
Jameson Blender's Dog Tasting Notes
EYE
Golden
NOSE
Malt, cinnamon apples, copper, pears, honey, taffy and a bit of nuts and tropical fruit.
PALATE
Malt, cocoa, hay, banana, pear, honey, vanilla taffy and some light bits of nuts and a sherry-like sweetness.
FINISH
Medium -> Honey, nuts, fruit and a grassy malt.
BALANCE, BODY & FEEL
Ok balance, medium body and a touch oily on the feel.
Jameson Blender's Dog Review – OVERALL
The overall impression I get of the Jameson Blender's Dog is that it's a higher malt (Single Pot Still) than the regular Jameson and so it ends up being a malt-forward blend. It holds that classic honied fruit style, but it does it with more depth and grace than the standard Jameson release.
Across the senses the Jameson Blender's Dog carries a nice full sense of malt with a touch of nutty sherry and something akin to banana oil. It's good, the beginning of an excellent blend and continues my excitement for this series from Jameson. It's endlessly fascinating to see how changes in the cask selection and levels of malt can result in big changes from the standard release. Like the Cooper's Croze, this is an Irish Blend done right.
SCORE: 85/100 (B)
*Disclosure: This Jameson Blender's Dog was graciously sent to me by the company for the purposes of this review. The views, opinions, and tasting notes are 100% my own.