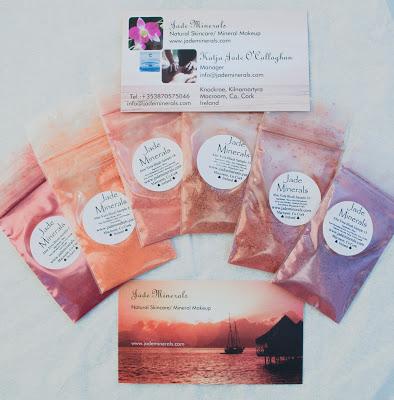 JadeMinerals (former MWW4U) gives you the possibility to receive some free samples of their new mineral make up, just paying for the shipping. I have to premise that MWW4U has been one of the first online make up stores I purchased from and that I've overall been always satisfied with their products and service. Katja, the CEO, then decided to have a break and come back with a new name for her brand, Jade Minerals precisely. She has kept some of her early products and introduced some new ones, among them there is a totally new range of powder blushes, made by aloe vera powder and oxides. 
She sent to me six of them, they are huge samples, with this quantity I will be able to use them for weeks :) 

Swatches with flash

Swatches with sunlight 

Swatches in the shadows :)
From left to right:  
- Shade n° 17: a deep reddish pink (shimmer) 
- Shade n° 14: a light peach (matte) 
- Shade n° 18: a soft coral pink (satin)  (so cute!)
- Shade n° 15: a brownish-rosey-terracotta (matte) 
- Shade n° 16: a mauvey terracotta (matte) 
- Shade n° 13: a mauvey plum (shimmer) (amazing!) 
For more infos about this free sample program go here. 
Let me know if you need further photos :) 
Kali