34 years ago, Jadav "Molai" Payeng, still a teenager at that time decided to dedicate his life for creating a new forest ecosystem. So, he began burying seeds along a barren sandbar in North East India's Assam region to grow a refuge for wildlife. Incredibly, that spot now hosts a sprawling 1,360 acres of jungle that Payeng planted-single-handely. Locals call this place 'Molai Kathoni' (Molai's woods) after Payeng's pet name, Molai.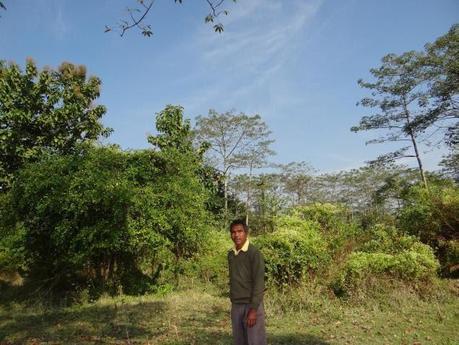 Jadav "Molai" Payeng with his Molai Forest in the background
Payeng's story began in 1979, when a flood hit Assam. That flood washed a large number of snakes ashore on the sandbar. After the waters had receded, 16 year old Payeng found the place dotted qith the dead snakes. This incident turned his life on its head.
"The snakes died in the heat, without any tree cover. I sat down and wept over their lifeless forms. It was carnage . I alerted the forest department and asked them if they could grow trees there. They said nothing would grow there. Instead, they asked me to try growing bamboo. It was painful, but I did it. There was nobody to help me. Nobody was interested," says Payeng, now 47.
Leaving his education and home, he started living on the sandbar. Unlike Robinson Crusoe, Payeng willingly accepted a life of isolation. And no, he had no Man Friday. He watered the plants morning and evening and pruned them. After a few years, the sandbar was transformed into a bamboo thicket. "I then decided to grow proper trees. I collected and planted them." 
While it's taken years for Payeng's remarkable dedication to planting to receive some well-deserved recognition internationally, it didn't take long for wildlife in the region to benefit from the  manufactured forest. Demonstrating a keen understanding of ecological balance, Payeng even transplanted ants to his burgeoning ecosystem to bolster its natural harmony.  "I also transported red ants from my village, and was stung many times. Red ants change the soil's properties . That was an experience," Payeng says, laughing.
Soon, there were a variety of flora and fauna which burst in the sandbar, including endangered animals like the one-horned rhino and Royal Bengal tiger. "After 12 years, we've seen vultures. Migratory birds, too, have started flocking here. Deer and cattle have attracted predators," claims Payeng . He says locals recently killed a rhino which was seen in his forest at another forest in Sibsagar district.  The forest, called the Molai woods, now serves as a safe haven for numerous birds, deer, rhinos, tigers and elephants — species increasingly at risk from habitat loss.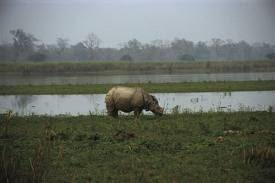 Molai woods now hosts a variety of rare animals including Great Indian one horned rhinoceros
Payeng talks like a trained conservationist. "Nature has made a food chain; why can't we stick to it? Who would protect these animals if we, as superior beings, start hunting them?"
The Assam state forest department learnt about Payeng's forest only in 2008 when a herd of some 100 wild elephants strayed into it after a marauding spree in villages nearby. They also destroyed Payeng's hutment . It was then that assistant conservator of forests Gunin Saikia met Payeng for the first time.
"We were surprised to find such a dense forest on the sandbar. Locals, whose homes had been destroyed by the pachyderms, wanted to cut down the forest, but Payeng dared them to kill him instead. He treats the trees and animals like his own children. Seeing this, we, too, decided to pitch in," says Saikia. "We're amazed at Payeng. He has been at it for 30 years. Had he been in any other country, he would have been made a hero."
But as if all that were not enough, Payeng says his work is hardly finished. Now he's planning on devoting the next 30 years of his life planting yet another forest. The tree-planting pioneer says he has his sights set on foresting yet another 1,300-acre sandbar:
"It may take another 30 years but I am optimistic about it," says Payeng, in an interview with Indian press. "I feel sad when I see people felling trees. We have to save the nature or else we all will perish."
Today Jadav Molai Payeng lives in a small simple hut in the forest with his family. Binita, his wife and his 3 children (two sons and a daughter). His only source of income is through selling milk, he has good number of cows and buffaloes in his farm and sell the milk for his livelihood.
According to Payeng a number of his cows have been killed by tigers, but he bears no ill will towards the tigers. "What they do is only natural for them," says Payeng, who blames people's insensitivity towards trees and animals as the single reason why forests around us are dwindling.
Jadav Payeng was honoured at a public function arranged by the School of Environmenal Sciences, at the Jawaharlal Nehru University on April 22nd last year for his remarkable achievement.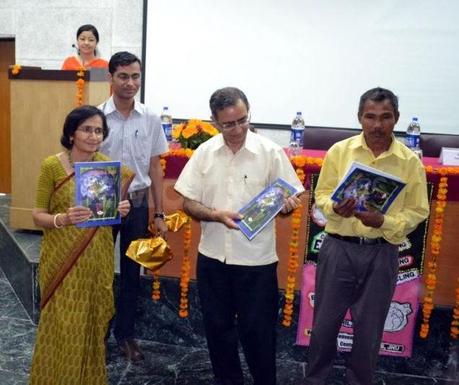 He shared his experience of creating a forest in an interactive session, where Magsaysay Award winner Rajendr Singh and JNU Vice Chancellor Sudhir Kumar Sopry were present.. Sopry named Jadav Payeng as "Forest Man of India and said that in his entire life he had neither heard nor read about anyone like Payeng.
Although Payeng's mission began when he was just a teenager, alone with the sun on his back and his hands in the dirt, the result of his years of work not only transformed a barren landscape -- but also the notion of what a single dedicated person was capable of to improve the world.
"My efforts haven't gone in vain," he says. "I may live a very lowly life but I feel satisfied that I have been able to stir up a lot of people who love nature."