With nothing else to talk or write about, most people turn to their crystal balls and switch into their prediction mode, wondering how the coming season will pan out. A similar analysis awaits us, as we check and ponder the five defenders who could come of age in the  this coming season, or make their much awaited breakthroughs.
With plenty of movement already in the summer transfer window, and still just under three weeks left of frenetic activity, who will set the world football alight next season?
This article takes a look at the potential young defenders who will make big impacts in the top flight.
Raphael Varane (Real Madrid) :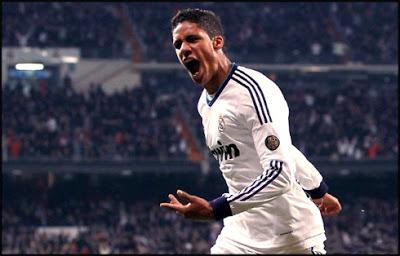 Rafael Varane
The french starlet became one of Real Madrid key's defenders last season. He got the chance to start for the first team after injuries to first choice players and the 20 year old grabbed his chances with both hands.
Since then , Varane has got better with time and worked his way into the center of Madrid defence, forming a strong partnership with Ramos in the process.
Varane produced a phenomenal performance in his first El Clasico,  and capped off his marvelous display with the equalising goal.  In the second leg of the tie, Varane grabbed himself another goal in an astonishing 3-1 away victory for Madrid. 
Varane is what some would consider to be the perfect defender, seen as though he is equipped with all the correct attributes to become one of the best defenders of our generation. He is a strong, quick and powerful centre-back who is flawless at bringing the ball out from the back, he is incredibly comfortable on the ball and his decision-making is first-class.
He is incredibly fast and outran Messi for the ball in El Clasico. He has good technique too.
Varane times his tackles and interceptions perfectly and is an excellent reader of the game.Varane is also able of starting attacks from the back. . He
 is a very good passer too with an avg. pass accuracy of 86%.
He has the perfect physique for a central defender; He is 1.91 m and strongly built. His most impressive trait is his aerial threat; he is extremely powerful and dominant in the air and can generate an enormous amount of power in his headers, something which can be successful at both ends of the pitch. It would appear that he has the perfect package for a defender and if he is able to continue to mature and develop over the next few years, then he will certainly become one of the world's best.
Inigo Martinez (Real Sociedad) :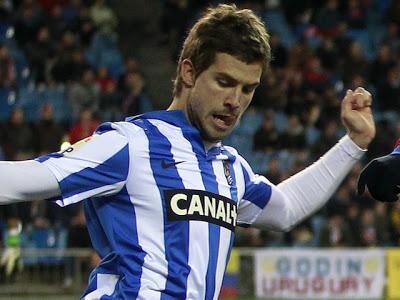 Inigo Martinez
Last season, Martinez  played an integral role in Sociedad's dream campaign which has seen them turn into genuine European contenders. 
Real Sociedad's star is very much a player for the future. He has showcased his talents for the Spanish youth teams and is believed to be one of the best young defenders in the country.
Martinez is a composed left-footer who possesses a top-class reading of the game and an unerring aerial ability despite his diminutive 5ft 11 inch frame.
Martinez has been drawing many comparisons to veteran Barcelona defender Puyol and rightly so. He is of a very similar size to the current Blaugrana captain and plays an identical style of game. Like Puyol, Martinez plays with a very physical nature and actually has the best traits that are found in the Barcelona man.
His ability in the air, as well as an intelligent reading of the game has made him a strong defender alongside Mikel Gonzalez at centre-half.
 He can also play at left full-back
The young defender is extraordinarily strong in the air, something found in Puyol. It is his extraordinary ability to read the game and lead a defense that has made Martinez stand out.
Martinez is a very successful defender and has led Real Sociedad to one of the best seasons in club history.
He enjoys an 80 percent successful tackle rate.  But Martinez also boasts nearly 60 percent success in aerial battles.  
He is also very adept on the ball, meaning Sociedad can rely on him to play the ball out of defence.
The young defender is also a very good passer of the game.
The 21-year-old has secured more than 80 percent passing last season and is known for being highly proficient in playing both short and long balls. 
He also has an ambitious eye for goal too, having scored goals from the half-way line against Real Betis and Athletic Bilbao last season.
His impressive reading of the game and spectacular ability in the air are central to the Sociedad game-plan of soaking up the pressure and hitting teams on the counter-attack.
His impressive performance in the U-21 Euro championship has resulted in interest from a number of clubs but it looks like he is staying at La Real for another year.




Matija Nastasic ( Manhester City) :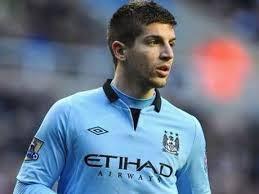 Nastasic
Matija Nastasic is a Serbian center back. The 20 year old currently plays for Manchester City, but has played for Fiorentina before his move to Manchester. 
He fitted seamlessly  into both the 4-3-3, and the 3-5-2 that were deployed by Mancini last season. Even as a part of the 3-5-2, he looked very comfortable on the left, right, and center of the defensive trio. He also displayed good awareness.
He seemed to be an organizational head within the defence, commanding others.
The 20 year old has the physical attributes and technique needed to make the breakthrough at the highest level of football.

With his natural pace and composure on the ball, not to mention his raw strength, he is destined to dominate center of defence but has stated in the past that he is still learning his trade so he is willing to play in whatever position he is required.

Nastasic is often compared to his international teammate Vidic, if he reaches anywhere near this level he'll be a top player for Manchester City.

Nastasic possesses good technique on the ball, and is a neat passer. Nastasic is excellent defensively, and executes tackles perfectly. His heading is also perfect, and his body position while trying to stop players getting past him is impeccable.

Nastasic shows a level of maturity and awareness that belies his years. He marks his areas effectively, and is comfortable during all positional rotations.

Nastasic's only problem seems to be his loss of concentration during games but that is understandable given his age..



Rafael Da Silva (Manchester United) :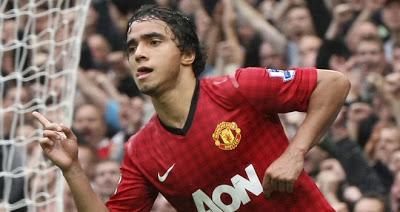 Rafeal Da Silva




Rafael da Silva, along with twin brother Fabio, was signed as a 17-year-old by United and he was brought to the club in the summer of 2008 as an 18-year-old. 

During his debut season in England, the Brazilian right-back was shortlisted for the PFA young player of the year

He had his best season at Old Trafford last year and cut out many of the mistakes that he had been prone to in his naive start for the Red Devils.

But under the tutelage of Sir Alex Ferguson he has developed and worked hard on his positioning and decision-making.

Last season saw Rafael stand out as one of the best right-backs in the league, and if he continues on the same path, he will be considered as one of the best in the world in a couple of years. 

Scoring three goals and making five assists last term has made the 22-year-old an attacking force down the right, and his partnership with Antonio Valencia has been close to rivaling Gary Neville and David Beckham at times.

There is, perhaps, no other player in the Premier League who can claim to have improved quite so much over the past 12-months. They are, areas in which he is much improved. The entire last season, Rafael has proved a better judge of when to make a tackle, where to position himself and of when to push forward than in previous years.

 Over the course of the last season, Rafael has silenced many of those who once wrote him off and clearly demonstrated that he is capable of performing at the very highest level. His attacking capabilities have never been in doubt, but he is now consistently proving that he is capable of meeting the British demands of a full-back.




He provides loads of energy and tenacity up and down the right touchline, He is clearly eager and competitive. 

His technical ability and pace make him a threat when he joins the attack.

Aerially, Rafael shows a willingness to battle but it's not a strength of his -- nor is it, necesarrily, a huge weakness. His 60%-ish aerial duel success rate in both league and in Europe is adequate for a full-back. 

In attack, Rafael's abiity to combine in tight spaces and in choosing the right runs to make makes him uniquely different than most attacking full-backs. For example, his willingness to go inside the opposing full-back -- particularly when Antonio Valencia hugs the touchline as the right-winger -- often causes confusion for the opposition and creates space either for himself or for another United attacker. When darting inside, Rafael is able to play quick 'one-two's' when necessary and he also appears to anticipate well when to make a late-arriving run.

The Brazilian can also make the requisite overlapping runs that most attacking full-backs are often associated with. His 24.9% crossing accuracy rate in league hints at him being an adequate crosser. He can a bit inconsistent at times with his crosses from near the touchline because his out-swinging crosses sometimes lack enough velocity. His placement of these crosses, though, is generally good. He also does well to drill low dangerous and low crosses across the box when he gets to the byline.

Rafael's clear biggest weakness is his proneness to being caught out too high on the pitch and thus making team vulnerable to counterattacks. But these days, it's not the box-to-box central-midfielders that are typically asked to guard the most vertical ground, it's often the maruading full-back. Rafael is certainly at fault sometimes for poor-positioning, but it's almost an impossible ask for him not to be caught out at times. If United had a healthy and energetic Darren Fletcher to break up counterattacks in these situations (or Marouane Fellaini!), perhaps the full-backs wouldn't be as exposed.

He has signed a new contract with United and is supposed to play a major role in title defense under Moyes.
Marquinhos (PSG):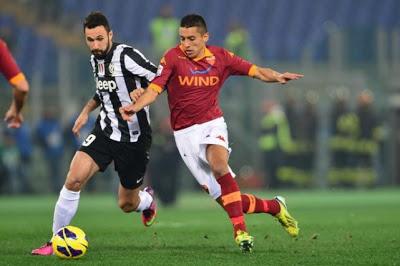 Marquinhos
Recently bought by PSG for €35 million, Marquinhos may not be the finished product, but he is already an outstanding central defender of ever-increasing repute.
The 19-year-old plays with astounding maturity for someone with just one season of regular first-team football to his name. His ability to pre-empt the pattern of play is second to none among young defenders worldwide, while he is blessed with impressive physical attributes despite his slight build.
Marquinhos was bought from Corinthians by Roma for £2.6m. The teenage defender quickly established himself as a first-team Roma player. 
He was a revelation in Serie 'A' last season. The Brazilian is comfortable on the ball, and ranks in the top 15 for interceptions per game, offsides won and blocked shots.
Marquinhos is naturally very athletic without being very big; he excels because of his ability to read the game and make key interceptions. He averaged a 90 percent tackle success rate while making 5 tackles per game. That's very good for a 18 year old defender. He reads the game astoundingly well which leads to his remarkable tackle success rate.
He was considered by some to be the best defender in the Serie A last year.  The Brazilian is highly known for how comfortable he is with the ball and he has very good pace for a six foot defender. He completed 88.9% of his passes, including a 77.3% long ball completion rate. 
Marquinhos is certainly a youngster that has lots and lots of potential in him. How he copes with the pressure of joining an ambitious PSG side will decide his future.
This is my list of top 5 defenders to look out for this season.. Have i missed something?? Which players are a part of your list?? Please share your views.