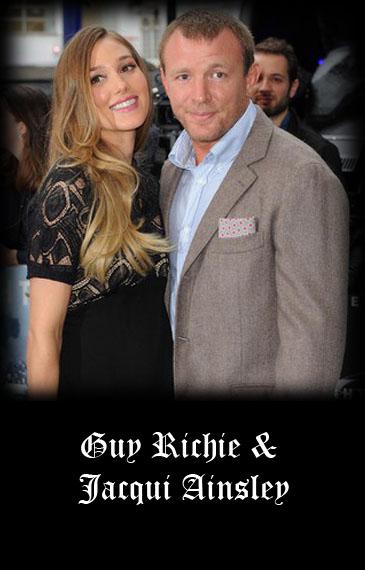 British filmmaker Guy Ritchie, 44, has lots of happiness in store for him. Engaged to marry his model girlfriend Jacqui Ainsley, who is also expecting their second child together, Guy has more than enough reasons to celebrate.
The news of Guy and Jacqui's second baby was confirmed back in July.
The `Sherlock Holmes` director and pop diva Madonna's ex-husband is ready for the nuptial bond to his girlfriend, Ainsley, 30, of two-and-a-half years.
Though no dates have been officially set as to when the couple will tie the knot, but Jacqui was witnessed with quite a blinging rock on her wedding finger.
"Ainsley flashed her diamond engagement ring during a dinner date on Sunday at Madeo restaurant in Los Angeles," a source said.
The long-term partners have been dating since April 2010 and welcomed their first child together, a son named Rafael on September 5, 2011.
This will be Ritchie`s second marriage, who split from Madonna, 54, after eight years of marriage in 2008 and they have two sons together, Rocco, and an adopted son, David.
Jacqui Ainsley is a very successful British model. She is well respected in the industry and is signed with multiple prestigious agencies.
Guy Ritchie bought a house for himself and Ainsley earlier this year. Both are said to be thrilled to be moving on to the next phase in their lives.
Congratulations to the happy couple! Wishing you a happy and healthy future!
Also Read : Jennifer Aniston's 'BIG' Bling from Fiancé Justin Theroux