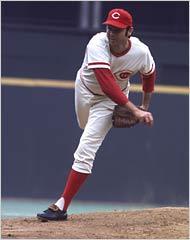 I stumbled across an interesting program on the MLB Network yesterday, before my new Tuesday Night Trivia debut. It was a history of the Cincinnati Reds, and I happened to turn it on just as they were talking about the great "Big Red Machine" teams of the 1970s.
I always had great respect for those teams, as they had one of the great lineups in baseball history. I was also watching it when the 1975 World Series came up. I've seen it discussed from the Red Sox point of view many times, but I've never seen it from the Reds angle. ( I believe the video is this one.)
So I found it absolutely bizarre when Carlton Fisk's immortal 12th inning home run to win Game 6 came up. As Pudge was circling the bases, Jack Billingham, who was a pitcher on that '75 Reds team and pitched earlier in the game, said something for the documentary that I had to listen to again to make sure I heard it right.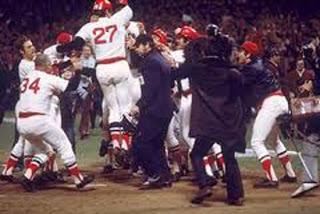 This is not an exact quote, but it is words to the effect of: "I have a World Series ring and a World Series trophy. He (Fisk) never got either, and only wound up with dirty shoes."
That made me shake my head. Don't ask me what the "dirty shoes" part of the statement means. But I think someone should point out to Billingham that while Pudge never got that elusive ring, he hit what is arguably one of the most iconic home runs in baseball history, in what was the winning homer in what many consider to be the greatest World Series game of all-time. And Fisk was also enshrined in the Baseball Hall of Fame in 1999.
As for Billingham, he was a decent pitcher (won 19 games twice in Cincinnati), but he is remembered for only one thing by baseball fans of that era, allowing Hank Aaron's 714th home run on Opening Day at Riverfront Stadium in 1974.
Yeah, Pudge may have ended up with "dirty shoes", but we will be seeing those "dirty shoes" forever on all-time MLB highlight reels. Just as we see ol' Jack serving up Hammerin' Hank's blast in the same one, tying The Babe back in 1974.