As It Is in Heaven begins with a little girl reciting the Lord's Prayer, which, though far from an original pairing of innocence with Hip-Hop subject matter, sets an interesting tone for the words that follow. As the girl repeats 'for ever, and ever, and ever', Thelonious Martin's production flows in, a glowing reverb floating over a simple kick drum beat. "For Real," then, seeks to bridge the gap between heaven and earth, with Jabee himself rapping 'Why do I feel like a wall is between us? Like Lord can you hear me, am I speaking English?'
The place of faith on As It Is in Heaven elevates it from the fairly standard rap record that it could be. Across the five tracks of the EP, we see Jabee using his down tempo flow to examine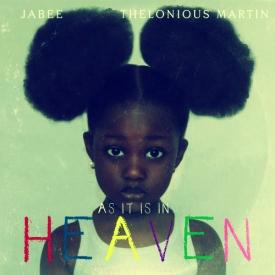 the world around him, holding it up against a religious ideal and allowing the listener to draw her own conclusions. On the excellent slow jam "Doughboy," we get one of the most revealing portraits of this questioning of faith: 'He rappin, can't understand what he said. Wanna impress me, heal the sick and raise the dead. Dead, both Rickie and Junie, watch Ricky get dropped than Junie got shot.'
It's a fairly common critique of religion: if Jesus is so powerful, why can't he prevent tragedies from happening to the people around me? But the dripping ire of Jabee's voice lends special power to this quick snap shot of his life. Later in "Doughboy" we get a reaffirmation of Jabee's faith: 'Like passion of christ, like passion for life, my reaction to plights.' The complexity of religion seems to fit nicely between these two sentiments, and Jabee's delivery, heavy on slant rhymes and repetition, is one perfectly geared to expose and examine those subtleties.
Of course, As It Is in Heaven is not limited to the subject matter suggested by the title. "Be Mine" pairs a ghostly track (based on shimmering vocal samples) with Jabee's back and forth with Lyric Jones, a sort-of-love-story that builds into auditory haze. And on "Get the Feeling" we get a look at Jabee's history, as he shouts out the Wu-Tang and Thelonious Martin builds off classic rap hooks.
All told, As It is in Heaven displays an artist getting in touch with himself: his faith, his history, and whatever's going on in his personal life. It's a statement of range, one that reveals Jabee as a personality fit to hit the next level–and, with Kevin Durant apparently already counted as a fan, he may already be getting there. He may not be reinventing the wheel, but the honesty of this EP may help to put Jabee on the map outside of OKC.

3 / 5 bars