For our anniversary, my husband and I went up to Baguio to lavish in the cool weather and explore. That was Uma's first long trip and to a hilly destination at that but we still braved it. He wanted to test her endurance.
If you're wondering who Uma is, she is hubby's pre-loved Nissan Sentra B14, his project and prized possession. Isn't she beautiful? Those are new shoes he had just bought.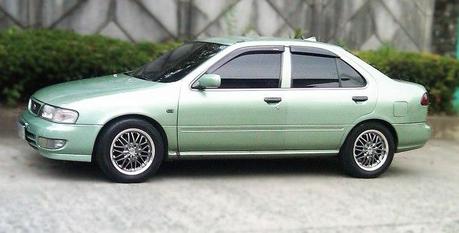 Yeah. I didn't care for cars before I met him but now I take a second to look at any car's drop, the hum from the muffler, bumpers and side skirts and mags and… oh, the list goes on.
Anyway, Uma's not the reason for my itchy-itch. So we were up in Baguio, enjoying ourselves. We stayed in a B&B, Forest House. I loved the place from the moment we set foot in our room. It was like a cottage built entirely in wood. The flowery designs on the bedding and towels provided a cheery feel to the place, like you really were home. It was so cozy that we almost felt like staying in for the two nights that we were going to spend there.
Of course we didn't do that.
We visited all the touristy spots and took lots of pictures, mostly of him doing funny poses. It was the long walks that we took that we enjoyed the most because one just can't enjoy walking in the warm Manila weather.
On our way back to Manila, we experienced some minor problems with Uma but that was quickly fixed with the help of his friend who had a shop there (thank goodness!). Good ol' Uma never let us down.
The sad part was that I started having red patches just below my neck, and they were agonizingly itchy. It got worse over the next few days even when I religiously applied ointments. He suspected it was ringworm that I got from the B&B's bedding, which sounds about right because I had nothing else wrapped around my neck that wasn't mine while we were there. You know what ultimately healed me? It was Body Shop's tea tree oil. My sister always swore to its potency as she had always used them on her kids' mosquito bites, but I've never really had any opportunity to use them before until now. They had the bottles on sale at 40% off at the time so I was extremely lucky. Before I had used up an entire bottle, the patches were all gone and I was no longer scratching here and there.
I am now more convinced about taking natural remedies rather than ointments that appear not to do anything for me. Have you had any experience with tea tree oil in general? How did it help you?