I love the sounds some motorcycles make, but I am picky about bike noise too. Not all bike sounds please me, but I do love a good Italian V-twin melody pretty well all the time. The best place to enjoy these booming arias is when you're sitting on the bike, and it is powering out of a corner, up a hill, preferably a good, long hill. And I do enjoy it when my own Italian V-twin does it. It's one of the simple pleasures that a motorcycle offers in bucketloads, when compared with most cars and their muffled engines. And so today's little posting is going to end with a brief but noisy sound check, but before we get to that I thought I'd show you a couple of photos of Italian V-twin melody makers I have in my diecast model cabinet.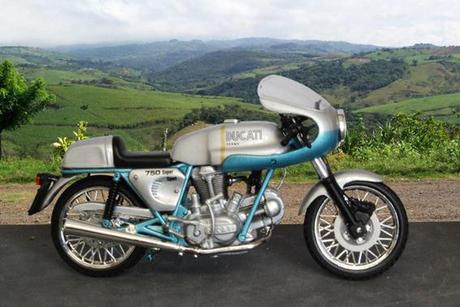 The Ducati 750SS, the 'green frame' model, probably the most collectable classic 1:1 size
Ducati there is. This one in the photo is a bit smaller; it's my little 1:24 model made by IXO,
painstakingly deep-etched into the same background I used for my earlier posting on
the Vincent Black Shadow.
This bike really put Ducati on the superbike map. With the addition of desmodromic valves to the 750cc 90° inline V-twin (which first appeared in 1972) the 1974 Super Sport gained 10bhp and 10mph in top speed, giving it a maximum somewhere around the 135-140mph (218-225km/h) mark. But it wasn't just straight line speed that told the story, it was the 'on rails' handling and the sheer look and sound of the thing. In terms of desirable Ducatis from the 70s, look no further. This bike was inspired by a famous race win, by Paul Smart at the Imola 200 mile race in 1972. This SS is generally known as the 'Green Frame' model, as this also represented the fact that it was a new, slimmer, improved frame which offered better handling. Another little detail of note was the fibreglass fuel tank with a clear strip down the side, for a quick check on fuel levels.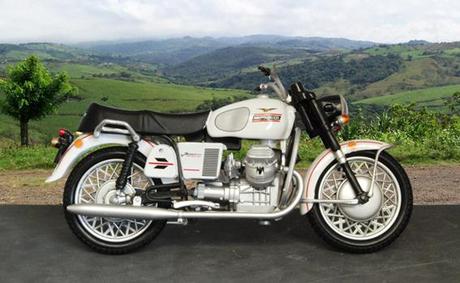 This is the 'grandfather' of my own bike, the 1969 model Moto Guzzi V7 Special, presented
here as a 1:24 model made by Starline. It's not really my dream Moto Guzzi – I prefer
both the California as a cruiser, and the Le Mans as a sports bike – but this is the bike
which gave Moto Guzzi V-twins a great start in earning an enviable reputation for quality
and reliability. And I wanted a model of my own bike's spiritual ancestor.
The first prototypes of the new big Moto Guzzi V-twin appeared in 1965, using the engine which powered Moto Guzzi's three-wheeled military vehicles. The first production models went on sale in 1967, and the V7 series appeared in 1969, as a 700cc bike at first (called the V7), but which quickly turned into the 750cc V7 Special. It made 60bhp, could get up to 115mph (186km/h) but this was a big, heavy 228kg (502lb) tourer, not a sports bike at all. And it wasn't cheap. In fact it was almost as expensive as you could get at the time.
I started bike riding in 1971 (on a very crappy BSA 250) and I always remember the Moto Guzzi V7 Special that some lucky rich guy in my suburb owned. I saw him on it every now and then, and while it was so far out of my price range that it was in the "in your dreams, son" category, I knew that I was only 18 and that hope springs eternal in a young man's breast. (By the way, the V7 Guzzis might be more familiar to North American readers as the 'Ambassador'.)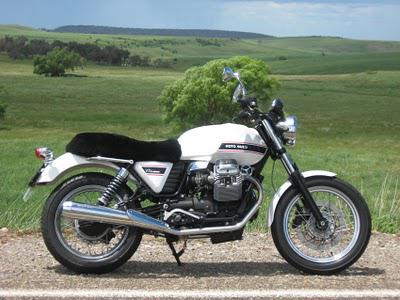 No, this is not my best diorama yet. It's my own 1:1 scale Moto Guzzi V7 Classic (2009 model),
pictured out in the NSW countryside enjoying what itdoes best, gobbling up country roads with
ease. You can see the family resemblance to Grandpappy above, but its engine is not of the
same provenance. This 750cc twin is based on a later V-twin designed by Lino Tonti. The
original V-twins were designed by Giulio Carcano, the man who also designed that other
famous Guzzi engine, the V8 Grand Prix bike. My bike's engine has a lot less flywheel than
the older Guzzi donks,with which I have spent many miles travelling Australia's highways.
MyGuzzi's engine revs more easily, has a much nicer gearbox, too, but it does share
one thing in common with the old fellas. It makes beautiful music.

My Guzzi is nice to ride anytime. It handles well, steers precisely and it's light. It's classed these days as a 'middleweight' bike. Back in the early 70s, a 750 was about as big as you could get in a true sports bike. But it's nice to take my V7 Classic even for a short ride across town, because it just sounds so damn good at idle, taking off, accelerating, powering out of corners. Anytime, anywhere, it sounds great.
And so I should finish off with that promised sound check, courtesy of You Tube. A Guzzi Le Mans in a tunnel, then emerging from a tunnel. It only takes a few seconds, but it sounds about right to me, an Italian V-twin melody.