Italian spiced ground chicken is the inspiration for this healthy one pan meal served with leeks, apples, and salty parmesan cheese.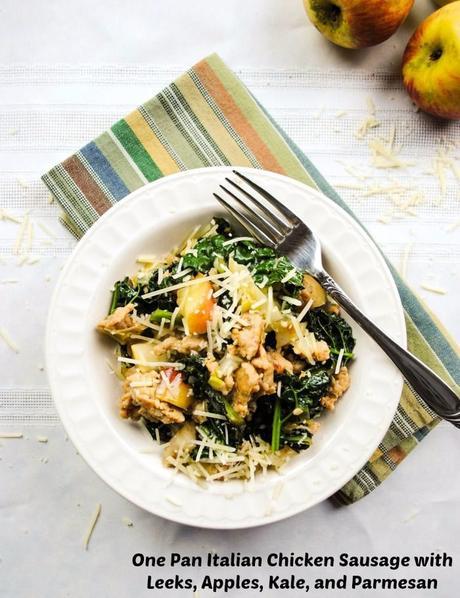 I'm a super fan of the sheet pan and one pan meals trending on Pinterest recently. You can pile your favorite protein in a pan or on a baking pan with a variety of vegetables and aromatics to come up with a healthy dish in no time.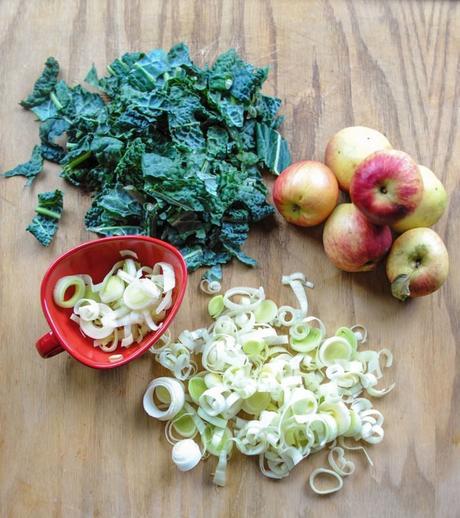 It's not a new thing for sure. If you flip through your cookbooks I bet you'll find more than a few recipes that use a single pan, but I'm happy all the same that making a quick and healthy meal is making a splash on social media and in people's kitchens.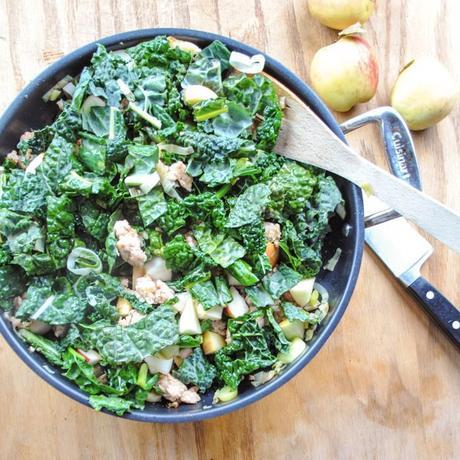 Italian ground chicken is the base for this one pan meal and with the addition of kale, fall fresh apples, mellow and oniony leeks we have the makings of a savory weeknight meal.
I have to give credit to our friend, Tim, whose apples have graced our table for weeks. How fortunate are we to have a pile of organic apples in our pantry!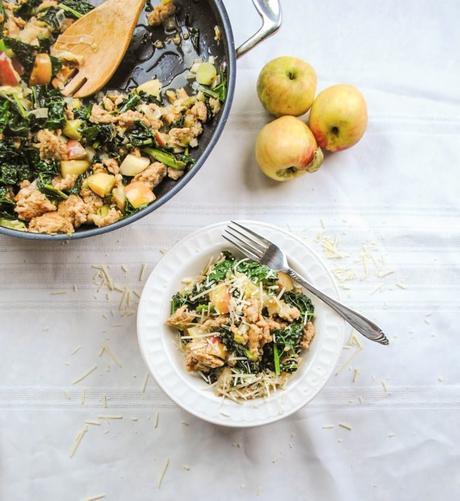 As is typical of this Rimkus family, dinner wouldn't be the same if a crumble of cheese of some kind wasn't found on the plate. Salty parmesan cheese is the perfect finish for this one pan meal.
15 minsPrep Time
25 minsCook Time
40 minsTotal Time

Save Recipe
Ingredients
1 tablespoon olive oil
2 cups leeks, cleaned and sliced
1 pound Iserno's Italian Ground Chicken
1 cup apples, heaping cup - chopped into bite sized pieces
4 cups kale, chopped
½ cup low sodium chicken broth
½ teaspoon salt
? teaspoon pepper
1 cup parmesan cheese , shredded
Instructions
Heat the olive oil in a non-stick pan over medium heat and add leeks. Cook for 5 minutes stirring often.
Add chicken and cook for 5 minutes, breaking into pieces.
Add apples, kale, chicken broth, salt and pepper. Cover and cook for 8 - 10 minutes until apples start to soften, then uncover and cook for another 5 minutes until excess liquid is reduced.
Serve topped with Parmesan cheese.
Notes
http://motherrimmy.com/one-pan-meal-recipe-chicken-leeks-apples-kale-parmesan/
Products I used for this recipe - Cuisinart Nonstick Skillet
. If you decide to make a purchase, Amazon will pay me a commission for it. This doesn't cost you anything additional. These commissions help support the cost of authoring this blog, so thank you!

If you like this, then you'll love these!