My Leader gives colored paperclips for every five pounds you lose. My WW total weight loss, before last night, was 50.8. Last night when I announced my 102.6 lb overall loss at the meeting, she put the little cup of colored paperclips next to me and said "Take as many as you want." Now keep in mind she's been giving me one for every five pounds I have lost on WW. In theory I should have 10, right? Well, I've lost them all. So, I mentioned that I had lost the ones she gave me and she encouraged me to take enough for 100 lbs. So here they are: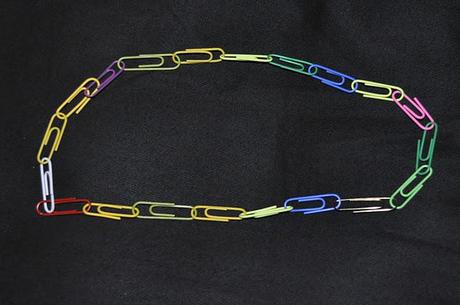 20 paperclips for 100 lbs! I am going to start to wear them to my meeting as soon as it is big enough.. It's not quite long enough yet. Maybe in ten pounds. I will carry them to every meeting now.
I brought those paperclips to work to show them to my co-workers. One of my fellow co-workers is a  WWer too. After showing my paperclips around I had to go to my desk to get logged in and ready for my work day. I hung the paperclips in the crack between the counters that are above my desk. I smiled every time I looked at them.  However, paperclips aren't too uncommon where I work.
There are lots of office supplies where I work. I've been working in call centers for five years. You'd be surprised what I can hear when people call in. My favorite is the sound of a flushing toilet. I think it's pretty hilarious. (I have a strange sense of humor). I once took a phone call while a guy was in the shower. He called in and said he was calling from the shower. I could hear the shower and I could tell I was on speaker, so I believed him. He sounded cute too;) I've heard many things while on calls. I've heard just about everything that is a sound you would have going on behind you when you're on the phone: people talking, dishes clanking, doors opening and closing, pets, traffic, bus engines, music, etc.
Today while I was on the phone I heard TWO WW commercials. First it was the Charles Barkley one, then on another call it was one of the Jennifer Hudson ones. Sounded like the caller muted the Jennifer commercial too! I get so excited when I see those commercials. Granted, Jennifer Hudson is starting to get a tiny bit annoying because she's on all the time. However, it makes me proud to be a part of something like Weight Watchers. So cool to be associated with Jennifer Hudson and Charles Barkley!
Jennifer Hudson is the reason I started WW. Well, that and the fact I was tired of being so fat. Those "It's a new day" commercials really inspired me. Now, here I am, 54.8 pounds later, 102.6 overall of course;) I've come a long way.