Hello everyone, Happy new month to us.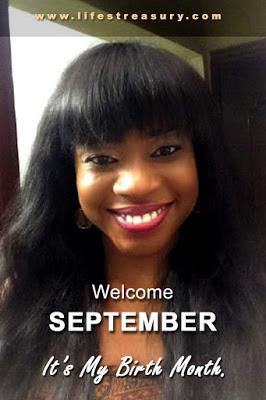 Yaaaay! I am so excited, I feel like a baby and I feel like I am acting really cheesy today and yes that's because its my birth month. I always look forward to my birth month because it comes like very very late in the year... Jeeez it is the 9th Month of the year, there is a difference of only 3 months left to the end of the year, so at the beginning of the year I am like, oh yeah lets wait for this. But then oh yeaah!!! it's here,yaaay.
My mom had a perfect calculation, she took in January and gave birth on the 9th month exactly, so yeah all September babies are children of perfection you know, we make an accurate count for child birth from the beginning of the year.
And above all I am excited that I have amazing, awesome readers to share that special day with me. I will share my special story on that day so stay glued.
I am extremely grateful to God for bringing us thus far and I  know in this month of September, our heart desires shall be met.
N.B: The gifts can start coming in, send me a mail to find out the date and my address and yeah I am not the best with the horoscope thing so I do not know where I fall(Libra or something #noidea). Loool.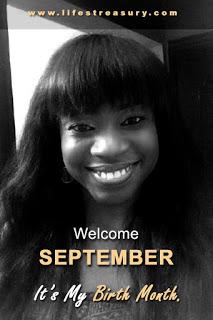 Love my readers so so much. HAPPY HAPPY NEW MONTH FROM ME TO YOU. (All shades of me..Hahaha)
Take out a second to wish me happy new month too in the comment box below. xoxohttp://feeds.feedburner.com/LifesTreasury