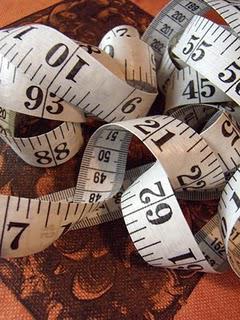 It's Spring!  You're out shopping for new clothes and you're surprised that the same brand, style and size of basic clothing you bought last season no longer seems to fit.  Of course, if you are like most people, you immediately blame it on a few extra pounds you may have put on over the winter months.  But what you are probably failing to realize is that it might not have anything to do with you at all.  The brand of clothes that you are purchasing could have had problems with their sizing due to their fit model, resulting in a totally different size proportion shift for their label.
Over the years it's been generally known that clothing sizes have become progressively smaller and no longer true to most adult sizes and proportion.  Marketing towards a younger demographic; I understand that.  But what I could never really figure out is why the same style and size of pants, for example, often did not fit the same each season.  The explanation usually given to the general public is that clothing manufactures follow the trends of younger, slimmer, taller people so the sizes continually change.  It wasn't until my daughter started working in the fashion industry and explained to me the role of a fit model did I  really begin to understand the process of sizing clothing.  By relying often on the same models each season to fit their clothing line, a clothing manufacturer's sizes remain true to their brand.  If the least little thing changes the seasonal collection can be totally thrown off.
Fit models are not chosen for looks. They are chosen for body proportion, shoulder slopes, hip size, etc. Each brand has a different set of specs (measurements) they need a model to fill. If a model gains weight, loses weight, or changes their body within 1/4 of an inch, their job is at risk. However a model who can keep her measurements steady easily makes in the high six figure range for her work.
Fit models come in all shapes and sizes. Missy, Petite, Plus size, Curvy, Petite Plus - the list goes on and on. A brand / designer can have many fit models for one category - it all depends on the demographic they are trying to reach. A model might have the perfect arms/shoulders to fit a woven shirt, however her hip / thigh is too small. In this case, you would have 2 missy models  - one who fits tops, one who fits bottoms. Most of the time, small changes in the model's body are caught before a garment heads off to production and are usually calculated into the total fit of the garment. However, sometimes they are not - or often times the factory makes a mistake in the measurements - this is why your pants may be a little tight this season.
My daughter had several pairs of jeans from a popular brand and recently noticed the newer jeans from 2011 had a different fit. The fit model for this company was called into her office for a 'go-see' by chance one afternoon -and it all came together. The fit model had returned back to work from maternity leave and her hips had expanded. Not only that, but the fatty part of her butt had flattened out when her hips moved and she became more flat on her backside. While this wouldn't be an issue for someone with a flatter behind, someone who has any kind of lift / fat to their backside was left with a pair of jeans that had a lot of extra fabric right in the middle of the back yoke.  This is a perfect example of how a simple small shift on a fit model can impact an entire clothing line.
To further illustrate, I was just about to finish writing this blog post a few weeks ago when I happened to see Elie Tahari on the View showcasing his best Spring looks for 2011.  The very first thing he remarked on before the models walked out was that they were "so" tall and the dresses were short.  They were only suppose to hit just above the knee.   The dresses (which were designed for professional women aprox 5'6) were being shown on models well over 6 feet.  The business casual line of dresses had suddenly become mini skirts - a completely different look and (fit) because they were out of proportion from the way they had been originally designed.  After I saw the segment I was just really glad that I had not hired those models for "that" job!