Bit of a late post today from us at Vinchi HQ, but it's never too late to talk about the fabulous world of vintage!
We are in London a lot and find the main problem with the place is the weather: Even though it may be sunny there is always that chilly breeze?! So, this kind of messes up my summery look. Although the outfit may look good; I will be walking around with arms crossed and legs together as if I am in need of  going to the loo! Summery look ruined.
At Vinchi, we always like to look classy and of course, it has to be vintage. So to solve this chilly experience on a day out, why not slip on a cardigan. This will simply add to your summer style instead of shadowing it with a thick jumper or coat!
At our unique vintage boutique http://www.vinchi.co.uk/ we currently have an offer on a pretty polka dot jumper. it's thin material design makes it the perfect outfit. Polka dot is also coming back into the fashion charts this season and with the high neck style; you will  setting the trend for others to follow. Yes we know we have just completely described this jumper to you almost down to the stitch, but we love it! Check it out and don't miss out! http://www.vinchi.co.uk/product_p/1055jj.htm ooooooo and look 30% OFF!

It's your lucky day ladies!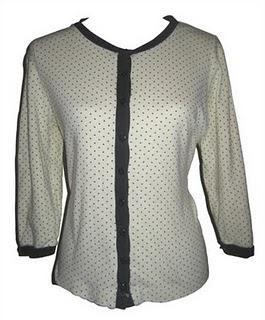 Keep posted to see what else is hot in the vintage shop.
Vinchi x