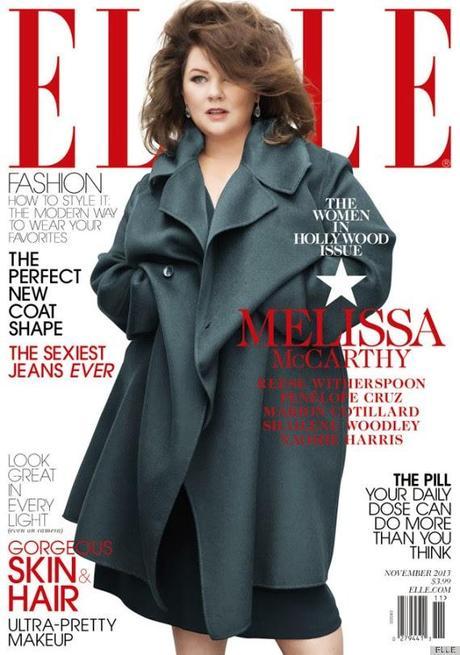 So apparently,

E

lle Magazine US

 has come under attack for covering up plus-sized '

Bridesmaids' 

actress 

Melissa McCarthy

 in an over-sized coat on its cover. 
Critics claim the magazine is purposefully hiding Melissa's shape because she doesn't conform to the typical proportions of a cover model 
(sourced from 
yahoo)
 Honestly, I think its all a load of rubbish and noise over nothing. If Elle really wanted to "cover up" Melissa, they'd have just used a head and shoulder shot like they did with Lena Dunham and Adele, they certainly wouldn't have put her in an oversized coat which has the opposite effect.
People seem to always want to make a fuss over fat and simmer over size, they complain that the plus-sized women isn't celebrated enough, then when she is, it isn't right. Melissa was put on the cover for her accomplishments, talents and beauty, not to be half naked and airbrushed in a skin-tight LBD. The fact it, Melissa looks good and she's on the cover, in full I might add. That in itself is an accomplishment for plus-sized fashion. 
TL. Xx
Update (Sourced from HuffPost): 
Today,
Elle has responded to the critics
, defending its styling choices with the following statement:
"On all of our shoots, our stylists work with the stars to choose pieces they feel good in, and this is no different: Melissa loved this look, and is gorgeous on our cover. We are thrilled to honor her as one of our Women in Hollywood this year."
Connect With Me: 
| Facebook |
Twitter
| Lookbook | Pinterest |
Tumblr
| Instagram | Bloglovin |