I'm still fairly new to NARS as I only have one of their blushers (the very beautiful Luster), but when I heard about this cheek palette I knew I just had to have it. The One Night Stand cheek palette is a limited edition offering from the Guy Bourdin collection, and while the collection has received a fair bit of negativity due to the nature of Bourdin's work, I still wanted to get my hands on the palette because of the gorgeous selection of powders. The palette was made available to pre-order through Space.NK a few days ago, and since then the blogging world has gone a bit NARS mad. You can't even imagine my excitement when my very own palette arrived this morning and now I want to write a quick post about my first impressions of the One Night Stand palette.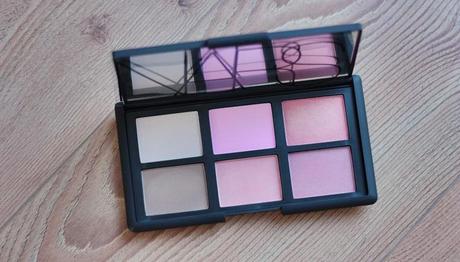 The packaging for this palette is the same as your typical NARS packaging with the black rubberised material and sleek design. The palette is actually a bit bigger than I first imagined it would be, but then again, it does hold 6 decently sized blush pans so it shouldn't have been a surprise that it would be on the larger side. For this reason it isn't going to be makeup bag friendly when you're out and about, but it's absolutely perfect for traveling as you have so many different shades in one place. Each pan holds 4g of product which is great when you consider that an individual NARS blusher costing £21.50 holds 4.8g of product. This makes the palette great value for money as you're getting 6 (almost full sized) powders for £45.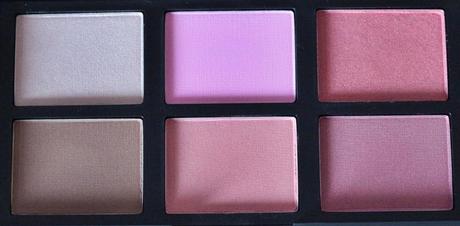 One Night Stand contains 6 gorgeous cheek powders, with 3 popular shades and 3 new shades being included for all of your powder needs. I know that some are disappointed with the selection of shades as 3 of the most popular NARS powders (Orgasm, Laguna & Deep Throat) have been included and many already own these, but for me the palette is perfect as I've never tried any of these popular shades. The 3 new shades (Devotee, Mistinguette & Goulue) are a lovely addition as the color range gives you so much to choose from.
The shades are Devotee (a slightly frosty pink-toned highlighter which is subtle enough for a pretty glow), Mistinguette (a matte bright blue-toned pink which I'll be saving for the summer months), Orgasm (the very popular pink shade with gold shimmer which every NARS lover tends to have), Laguna (the very much raved about bronzer with subtle shimmer that is another favorite for NARS lovers), Deep Throat (a lightly more peach-toned version of Orgasm with less shimmer) and Goloue (a reddish-toned pink that is going to be absolutely perfect for this time of year).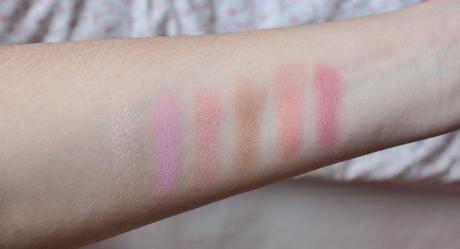 Swatched L-R: Devotee, Mistinguette, Orgasm, Laguna, Deep Throat & Goulue
All in all I'm SO happy that I went ahead and pre-ordered this beauty of a palette. I've always been curious about a number of the popular powders from NARS and this has given me the perfect opportunity to try a few of them out so I really can't complain about a thing! At £45 it's not exactly a budget friendly product but when you consider how much product you are getting for your money (compared to full sized NARS items), it's an investment that I think is very much worth it. It's also an amazing gift for makeup lovers to add to their Christmas lists as we're getting even closer to Christmas now (eek).
The palette is exclusive to Space.NK in the UK and is currently on back order due to the large number of pre-orders being made on the website over the last few days. An estimated shipping date of the 1st of December has been given on the website. You can still order the palette for £45 here.