I'm a sucker for magazines.  It doesn't matter if they are in the grocery isle or by subscription.   If it has to do with food, art, gardening or spiritual philosophy... I've probably picked it up and either read it or skimmed the contents at one time or another.
I was in a particularly slow line at the grocery store the other day and a new one caught my eye.  "The Old Farmer's Almanac of Everyday Recipes".   I'm a huge fan of the regular "Farmer's Almanac" so I automatically picked it up, started skimming, and knew that it was an immediate purchase.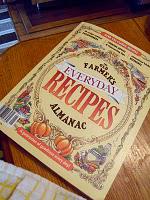 Like the regular "Farmer's Almanac" the contents in this cooking publication are pretty straight forward.  In fact I wouldn't be a bit surprised if the recipes given have come from previous recipes that had been published in the Almanac over the years.  Comfort food.   Delicious.  Fairly healthy home cooking without a lot of unnecessary bells and whistles.
"Everyday Recipes"  is standard magazine size, not digest size like the Almanac.  It also costs a few dollars more then a regular magazine, but it's worth it.  It's more like a soft cover cookbook in magazine format.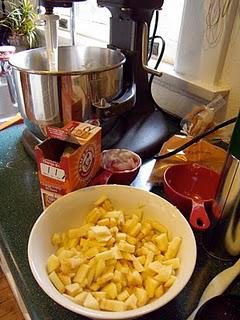 Yesterday's Nor Easter left the weather at our house very cool and windy this morning.  In addition to the seasonal weather change, we also happens to be in the middle of the Fall apple harvest here in in New Jersey.  So, needless to say, the Apple Poppy Seed Coffee cake recipe from the new Farmer's Almanac Cooking Magazine was definitely calling out for me to try it!
Well I did and was quite pleased with the results. Not too sweet or rich tasting (which I like in a morning coffee cake) and the addition of the poppy seeds added a nice subtle texture to the final baked good.  I really enjoyed this cake eaten plain, but I also think it would also be quite tasty with jam or apple butter on the top.
Below I'll share the recipe in case you would like to try it.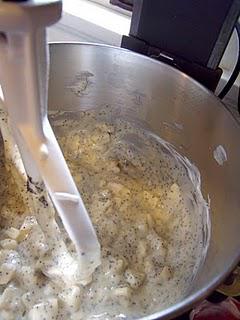 In wrapping this up I'd like to mention that if you have never picked up a Farmer's Almanac and looked though it, you should.  It's a really is an enjoyable little publication.  This is the time of year when they are readily available and you can find them in just about every rack where magazines are sold.
I was originally acquainted with the Almanac through my father, who was a masterful gardener, and would never dream of planted a thing without consulting it first.
Since I've been living out East I've found that I religiously follow their weather predictions.  And you know what?  They are "always" around 90%... dead on... correct!.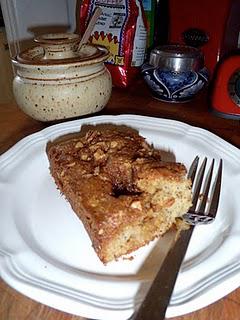 ******
   Apple Walnut Poppy Seed Coffee Cake
   (the book states that this was 3rd prize from the 1991 Old Farmer's Almanac
            Recipe Contest:  "Apples")
Cake:
1/2 cup vegetable oil
1 cup sugar
2 large eggs
1 teaspoon vanilla
2 cups all purpose flour
1 teaspoon baking soda
1 teaspoon baking powder
1/4 teaspoon salt
3 tablespoons poppy seeds
1 cup sour cream (I used low fat)
2 cups peeled, cored, finely chopped apples
Topping:
1 cup chopped walnuts
3/4 cup brown sugar
1 teaspoon cinnamon
1/2 stick butter, softened  (1/4 cup)
For cake:  Preheat over to 350.  Grease and flour a 9x13 pan.  In large bowl mix together oil and sugar.
Beat in the eggs, vanilla and set aside.  IN another bowl sift together the flour, baking powder, baking soda, and salt.  Stir in the poppy seeds.  Add the dry ingredients to the oil mixture alternatively with the sour cream.  Fold in apples and our the batter evenly into the pan.
For topping:  Combine walnuts, sugar cinnamon and butter.  Mix until crumbly and sprinkle over the batter.  Bake 35 to 45 minutes.  Cool in pan for 10 minutes before serving. 
Related Posts:
Super Easy Garam Masala Chicken