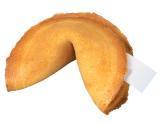 It's a poignant time of year. At odd moments our own mixed bag of memories, inklings and emotions may take us by surprise. We tell ourselves it's not the time to get bogged down, let alone burden others with our surplus of esoteric feelings. ––We have parties to attend, homes to decorate, presents to buy, cards to send, food to prepare, guests to welcome, songs to sing and good cheer to spread! –– We make resolutions, cross our fingers and brace ourselves for whatever the coming year might hold. We are hopeful, resilient, valiant.
No poem I know of captures the quirky, bittersweet humor of this human phenomenon more aptly than this piece by Susan Elizabeth Howe.
Have a blessed season . . .  and take heart––we're all in this together!
"Your Luck is About to Change"

(A fortune cookie)

Ominous inscrutable Chinese news
to get just before Christmas,
considering my reasonable health,
marriage spicy as moo-goo-gai-pan,
career running like a not-too-old Chevrolet.
Not bad, considering what can go wrong:
the bony finger of Uncle Sam
might point out my husband,
my own national guard,
and set him in Afghanistan;
my boss could take a personal interest;
the pain in my left knee could spread to my right.
Still, as the old year tips into the new,
I insist on the infant hope, gooing and kicking
his legs in the air. I won't give in
to the dark, the sub-zero weather, the fog,
or even the neighbors' Nativity.
Their four-year-old has arranged
his whole legion of dinosaurs
so they, too, worship the child,
joining the cow and sheep. Or else,
ultimate mortals, they've come to eat
ox and camel, Mary and Joseph,
then savor the newborn babe.

Source: The Poetry Foundation