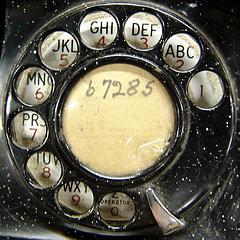 Below is a very short piece about a meddlesome mother who is only trying to get involved for the right reasons. With apologies to Frank L. Baum and Gregory Maguire, here's what I pictured using a well-known bad girl and her mother.
Playing With Fire
She stood there watching the black telephone with the rotary dial ring. She didn't want to answer it. She knew who would be on the other end of the line. The ring was so loud and so persistent; she tried to walk away, but ultimately knew that avoiding it wasn't going to make it disappear. She could zap it, but she knew she'd pay the price for it down the road.
At about the fifteenth ring, she picked it up.
"Hello," she said in an agitated voice, as she paced back and forth, her black dress sweeping the floor.
"Don't hello me," said the voice on the other end. "Don't you make me wait this long to answer the telephone! When are you ever going to do the right thing the first time?"
She'd heard these complaints before. She knew she could never please her.
"What do you want, Mother?" she asked.
"What do I want?" she screamed back, her voice booming so loudly, it vibrated her ear through the line. "I want you to stop causing trouble! I know what you've been up to and I don't like it one bit! I heard you were tormenting a scarecrow. Are you insane? We've already lost your sister, God rest her soul, and now you're playing with fire?"
She walked over to the window and looked outside, holding the phone as far away from her ear as she possibly could. She hated when her mother got involved in her affairs. She'd been on her own long enough and resented ever ounce of interference. She could feel her green skin becoming hot, and knew she'd be red-faced before long.
"Listen, Mother," she began in a low, steady voice. "I want those shoes, and that ridiculous scarecrow and some meddlesome little freckle-faced girl he was with was wearing them. They are mine."
Her mother sighed into the phone, an element of disgust making its way through the wires. "They are not your shoes," she said. "They were hers. And she is gone, and we have no need of them anymore. Besides, they were hand-me-downs from our neighbors. So, whose are they really?"
She couldn't hear her mother rationalize things, not today. Her mother was acting as if she were noble and good. Ha! thought she. She's a far cry from that! She wanted those shoes and she wanted revenge. Outside, another storm was brewing.
"Did you hear me?" she could hear her mother yelling, as she'd placed the receiver on the table, and walked away. "I'm talking to you! You listen to me right now! You're going down a scary path and I want you listen!"
She took one last look back at the telephone, mumbled sounds emanating from it. She couldn't listen to the incessant scolding for one more second. She grabbed her broom and walked out the door, determined to seek justice for the death of her sister.