After what seems like months spent gazing into seed trays willing things to grow, I had a nice surprise at the weekend. Things seem to be finally getting the message, and indeed have begun to pop their heads up.
The peas are romping away, which is a stroke of good luck as the ones in the guttering shrivelled and died. I wasn't sure if you are supposed to water them during the cold weather: whatever I did, it appears not to have been the right thing… oh well, at least I'd employed stunt doubles

. I've also planted another tray of snap peas that should produce slightly later. So if I manage not to kill these, we should have peas well into the summer.
And that's not all. Yes, I know they are small, but have a look at these bad boys: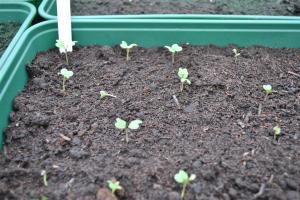 Cabbages and brussels
Cabbages and brussels for the end of year crop ("Hurray!" I hear my family cry) … and ….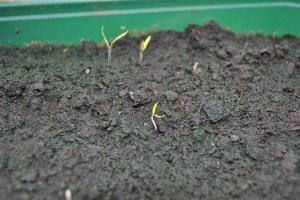 First sign of tomatoes
The very first tomatoes! Hopefully these little chaps can spur the other trays on, as there are still aubergines, cucumbers, peppers, courgettes and parsnips, together with some assorted trays of flowers, some purple sprouting broccoli and a trough of lettuce.
Did I buy a big enough greenhouse?…
Advertisement