This weekend London celebrates past times with the Vintage at Southbank Centre. I am lucky enough to have a ticket for Saturday and quite simply can't wait!
The Southbank Centre is going to be jam packed with vintage stalls, dance classes, retro makeup and hair salons and oodles of vintagey goodness.
One thing I'm most looking forward to is seeing these ladies again. Two summers ago, the boyfriend and I attended an amazing party hosted by one of his cousins. It was a weekend long affair of camping, food, wine, bloody mary's, kayaking, more wine, dancing, and some great entertainment.
One of the afternoons while we were relaxing in the sun, The Shellac Sisters were spinning out their 78s quite to my delight. Amazing music that you don't get to hear all that often, and from a gramaphone none the less. Swing, Jazz and Big Band beauties from the 1920's to the 1950's. I loved everything about these girls. They dressed the part and were all looking amazing from top to toe.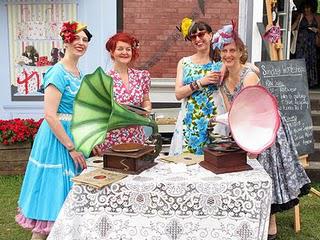 Image (c) The Shellac Sisters.
I haven't seen The Shellac Sisters anywhere since. However they do gig frequently, and they will be playing this weekend at Vintage at Southbank Centre. If you're heading down to the festival, make sure to check them out!
See their site for more info and a vintage swing fix.