Vettel cruises to win in Istanbul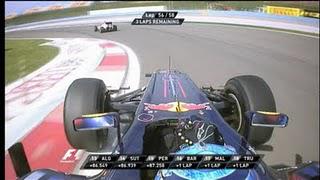 Perfect race and result for Sebastian Vettel
It was a comfortable wire to wire victory for Sebastian Vettel in Turkey. There was no situation in the race where his victory could have been in doubt. This victory makes it his third race win in the fourth race of the season already. Mark Webber with his second position made Red Bull's Sunday afternoon perfect.
Comeback for Ferrari: Fernando Alonso had a strong race and finished third. For most of the race distance the Spaniard could match the Red Bull's pace and it was not until seven laps to the end that the two time world champion had eventually to give way to the at this stage faster Mark Webber. Alonso's third place is the first podium finish for Ferrari in 2011.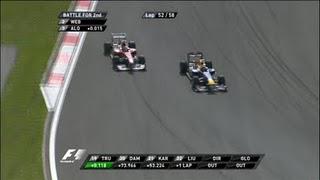 Mark Webber overtaking Fernando Alonso for second place
Jenson Button and Lewis Hamilton had a few skirmishes on track with the better end for Hamilton, whose four stop strategy proved to be the better choice compared to Button's three stops. But never in the race were the McLarens quick enough to challenge the frontrunners.
Nico Rosberg did a great start and went up into second place. Unfortunately, afterwards Ross Brawn's worry that the team had not been able to find a working race setup for the car came true. Nico Rosberg was much slower than Webber, Alonso and the McLarens and had give way to them. At the end of the race his four stop strategy gave him the crucial advantage over Jenson Button to finish ahead of the Briton in fifth place.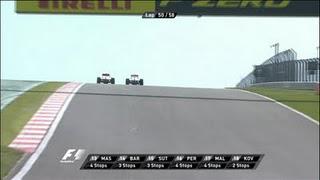 Hamilton (left) making his final move on Button on lap 50
A great drive we saw from Kamui Kobayashi, who after not having been able to run his car in qualifying managed to move from the very back of the field up into the points.
Michael Schumacher's driving style did not carry conviction. Instead of giving way to Vitaly Petrov, who was already past him, the German drove into the Lotus Renault damaging his front wing, compromising heavily his race. He finished twelfth.
Final results of the race
Pos.DriverNat.TeamTime/GapLapsPs
1Sebastian VettelGermanRed Bull584
2Mark WebberAustralianRed Bull+8.807584
3Fernando AlonsoSpanishFerrari+10.075584
4Lewis HamiltonBritishMcLaren+40.232584
5Nico RosbergGermanMercedes+47.539584
6Jenson ButtonBritishMcLaren+59.431583
7Nick HeidfeldGermanLotus Renault+1:00.857584
8Vitaly PetrovRussianLotus Renault+1:08.168584
9Sebastien BuemiSwissToro Rosso+1:09.394583
10Kamui KobayashiJapaneseSauber+1:18.021583
11Felipe MassaBrazilianFerrari+1:19.823584
12Michael SchumacherGermanMercedes+1:25.444584
13Adrian SutilGermanForce India+1L573
14Sergio PerezMexicanSauber+1L574
15Rubens BarrichelloBrazilianWilliams+1L573
16Jaime AlguersuariSpanishToro Rosso+1L574
17Pastor MaldonadoVenezuelanWilliams+1L574
18Jarno TrulliIndianTeam Lotus+1L573
19Heikki KovalainenFinnishTeam Lotus+2L563
20Jerome D'AmbrosioBelgianVirgin+2L562
21Narian KarthikeyanIndianHispania+3L553
22Vitantonio LiuzziItalianHispania+5L534
23Paul di RestaScottishForce India+14L444
RETTimo GlockGermanVirgin4
RET...retired
Related Articles
Istanbul - Qualifying

Istanbul - Practice 3

Istanbul - Practice 2

Istanbul - Practice 1

And the Winner Is...

Hamilton or Button?

Estimated Pecking Order for 2011
You can have a look at the archive for a list of all articles