Vettel fastest in final practice session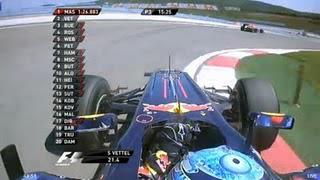 Vettel back on pace in final practice after Friday's early crash
Michael Schumacher came very close to topping the time sheets for the first time in his second career, but this was denied by fellow German Sebastian Vettel by the smallest imaginable gap of just one thousendth of a second.
Even though Sebastian Vettel only completed four laps on Friday, his time of 1:26.037 in Saturday's final practice session has been the fastest time in Istanbul on this weekend. If the current world champion had not been held up by traffic at the end of his fastest lap, he could have gone a few tenths faster.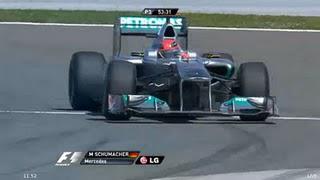 Michael Schumacher showed a strong performance in P3
Vettel goes into qualifying as the hot favourite for pole position. Mercedes clearly seem to have the pace to fight McLaren and possibly Webber for the first two rows on the grid. Ferrari still are not capable of delivering the single lap speed needed to compete at the front and are to be considered the fourth force for the Turkish Grand Prix.
Hispania in general and Narian Karthikeyan in particular might find it difficult to be within the 107 percent limit in qualifying, which in practice 3 would have been a time of 1:32.059. Taken into account that Vettel's fastest lap was compromised by traffic, Narain Karthikeyan, would not have been within this theoretical limit. What could play into Hispania's hands, though, is the fact that the top teams usually use the slower option tyre in Q1.

Practice 3 - final results
Pos.DriverNat.TeamTimeGapLaps
1Sebastian VettelGermanRed Bull1:26.03717
2Michael SchumacherGermanMercedes1:26.038+0.00117
3Mark WebberAustralianRed Bull1:26.404+0.36716
4Nico RosbergGermanMercedes1:26.420+0.38319
5Jenson ButtonBritishMcLaren1:26.578+0.54117
6Lewis HamiltonBritishMcLaren1:26.726+0.68914
7Vitaly PetrovRussianLotus Renault1:26.755+0.71820
8Fernando AlonsoSpanishFerrari1:26.819+0.78212
9Felipe MassaBrazilianFerrari1:26.883+0.84612
10Sebastien BuemiSwissToro Rosso1:27.080+1.04316
11Sergio PerezMexicanSauber1:27.121+1.08420
12Pastor MaldonadoVenezuelanWilliams1:27.255+1.21818
13Adrian SutilGermanForce India1:27.318+1.28119
14Nick HeidfeldGermanLotus Renault1:27.379+1.34217
15Rubens BarrichelloBrazilianWilliams1:27.528+1.49119
16Paul di RestaScottishForce India1:27.644+1.60718
17Jaime AlguersuariSpanishToro Rosso1:27.724+1.68715
18Kamui KobayashiJapaneseSauber1:27.976+1.93919
19Heikki KovalainenFinnishTeam Lotus1:28.911+2.87415
20Jarno TrulliItalianTeam Lotus1:29.697+3.66017
21Jerome D'AmbrosioBelgianVirgin1:31.097+5.06025
22Timo GlockGermanVirgin1:31.175+5.13819
23Vitantonio LiuzziItalianHispania1:31.375+5.33819
24Narain KarthikeyanIndianHispania1:32.009+5.97215
Related Articles
Istanbul - Practice 2

Istanbul - Practice 1

And the Winner Is...

Hamilton or Button?

Estimated Pecking Order for 2011
You can have a look at the archive for a list of all articles