Jenson Button fastest on Friday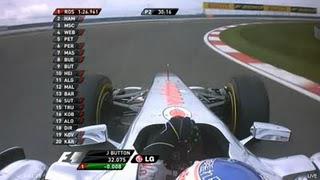 McLaren and Button showed strong performance on Friday
After a wet first practice session on Friday morning all teams had to do the whole load of their setup work in the afternoon session. For Red Bull this is a huge disadvantage, since Sebastian Vettel lost practice 2 due to his accident in the morning.
The fastest man on Friday was Jenson Button with a time of 1:26.456, just 0.065 seconds in front of Nico Rosberg, who continues his impressive performance from the Shanghai weekend.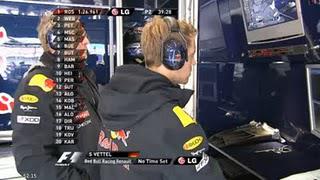 That is all Sebastian Vettel could do on Friday afternoon
It is difficult to judge the relative performance of the teams, even more so since Sebastian Vettel does not show up on the time sheets.
Unless held in wet conditions again, tomorrow's practice session will give more of an indication as to pole position contenders.

Friday Practice 2 - final results
Pos.DriverNat.TeamTimeGapLaps
1Jenson ButtonBritishMcLaren1:26.45626
2Nico RosbergGermanMercedes1:26.521+0.06529
3Lewis HamiltonBritishMcLaren1:27.033+0.57731
4Michael SchumacherGermanMercedes1:27.063+0.60721
5Mark WebberAustralianRed Bull1:27.149+0.69331
6Felipe MassaBrazilianFerrari1:27.340+0.88437
7Vitaly PetrovRussianLotus Renault1:27.517+1.06137
8Paul di RestaScottishForce India1:27.725+1.26937
9Sergio PerezMexicanSauber1:27.844+1.38832
10Adrian SutilGermanForce India1:28.052+1.59637
11Fernando AlonsoSpanishFerrari1:28.069+1.61327
12Sebastien BuemiSwissToro Rosso1:28.153+1.69736
13Nick HeidfeldGermanLotus Renault1:28.475+2.01935
14Jaime AlguersuariSpanishToro Rosso1:28.765+2.30932
15Pastor MaldonadoVenezuelanWilliams1:28.828+2.37219
16Rubens BarrichelloBrazilianWilliams1:28.946+2.49020
17Jarno TrulliItalianTeam Lotus1:29.409+2.95339
18Kamui KobayashiJapaneseSauber1:29.637+3.18127
19Heikki KovalainenFinnishTeam Lotus1:30.281+3.82537
20Jerome D'AmbrosioBelgianVirgin1:31.035+4.57928
21Timo GlockGermanVirgin1:31.221+4.76522
22Narain KarthikeyanIndianHispania1:31.320+4.86429
23Vitantonio LiuzziItalianHispania1:31.989+5.53330
24Sebastian VettelGermanRed Bull0
Related Articles
Istanbul - Practice 1

And the Winner Is...

Hamilton or Button?

Estimated Pecking Order for 2011
You can have a look at the archive for a list of all articles