Heavy rain on Friday morning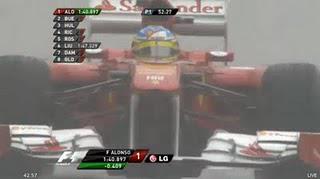 Fernando Alonso set the fastest lap in the wet
Friday morning session
Wet conditions prevented many teams from thoroughly testing new parts which they have been developing during the three week break since the Chinese Grand Prix in Shanghai. One of those teams was Virgin, who have completely redesigned their car after their poor performance at the start of the season.
The fastest time on Friday morning was set by Ferrari's Fernando Alonso with a 1:38.670. The Spaniard was 1.402 seconds in faster than second fastest Nico Rosberg. Michael Schumacher was third, six hundreth of a second behind his teammate.
The McLaren drivers Lewis Hamilton and Jenson Button only completed a few installation laps and did not set any serious timed laps. Also Mark Webber completed only five laps and set the eleventh fastest time, 3.894 seconds behind Alonso.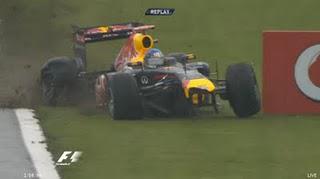 Sebastian Vettel damaged his Red Bull heavily
Due to the difficult track conditions the session was characterised by many drivers losing control over their cars and going off the track.  The most serious accident was experienced by Sebastian Vettel. The German sat in the garage for most of the first hour, obviously waiting for the conditions to improve. Indeed did the rain become lighter around mid-session, but when Vettel eventually went out an hour into the session the rain had intensified again and the intermediate tyres he was on made him lose control over his car. The Rad Bull car spun around and crashed into the barrier, causing heavy damage to the Red Bull.

Friday Practice 1 - final results
  Pos. Driver Nat. Team Time Gap Laps
  1 Fernando Alonso Spanish Ferrari 1:38.670   13
  2 Nico Rosberg German Mercedes 1:40.072 +1.402 14
  3 Michael Schumacher German Mercedes 1:40.132 +1.462 18
  4 Nick Heidfeld German Lotus Renault 1:40.338 +1.668 9
  5 Vitaly Petrov Russian Lotus Renault 1:40.401 +1.731 10
  6 Kamui Kobayashi Japanese Sauber 1:40.421 +1.751 16
  7 Felipe Massa Brazilian Ferrari 1:40.697 +2.027 14
  8 Daniel Ricciardo Austrialian Toro Rosso 1:41.094 +2.424 18
  9 Sebastien Buemi Swiss Toro Rosso 1:41.178 +2.508 22
  10 Nico H체lkenberg German Force India 1:41.347 +2.677 16
  11 Mark Webber Australian Red Bull 1:42.564 +3.894 5
  12 Pastor Maldonado Venezuelan Williams 1:42.597 +3.927 7
  13 Paul di Resta Scottish Force India 1:43.525 +4.855 11
  14 Rubens Barrichello Brazilian Williams 1:43.913 +5.243 5
  15 Jarno Trulli Italian Team Lotus 1:43.986 +5.316 6
  16 Vitantonio Liuzzi Italian Hispania 1:44.787 +6.117 20
  17 Sebastian Vettel German Red Bull 1:44.954 +6.284 4
  18 Timo Glock German Virgin 1:45.183 +6.513 15
  19 Jerome D'Ambrosio Belgian Virgin 1:45.237 +6.567 11
  20 Narain Karthikeyan Indian Hispania 1:48.461 +9.791 8
  21 Karun Chandhok Indian Team Lotus 1:51.676 +13.006 6
  22 Sergio Perez Mexican Sauber 1:55.791 +17.121 13
  23 Jenson Button British McLaren 2:00.666 +21.996 4
  24 Lewis Hamilton British McLaren     1