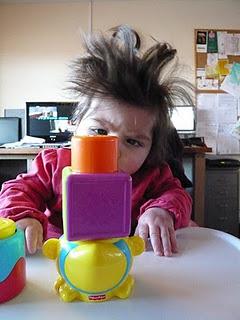 This time last year, it's easy to forget how bleak Isobel's future looked.
Once prescribed phenytoin at 12 hours old, she hadn't fitted once in the first six months of her life. So until she was weaned off her medication, nothing could have forewarned how much despair, fear and anxiety laid ahead for us.
Not even that fateful day - when Isobel's epilepsy re-appeared, eventually landing her in casualty on Christmas Eve 2009 - was indication enough; the arm twitches were so minuscule and impossible to film that I had to wait, agonisingly, for others to witness them too.
One year on, what a turnaround there has been! Today Isobel is looking bright as a button, and making great strides with her development, although she did take a while to get going after the seizures evaporated.
So how did she get to where she is now? I've compiled a year in review, placing the events of her life in a broader news context by way of a little perspective and humor. We hope this highlights the trials and tribulations of her journey so far - and if not, do email us; we'd love to know.
First let us rewind to 
January,
when Isobel has a second
EEG
in response to concerns about her seizures.  The result is normal. Nevertheless, she is made an 'open access' patient. Meanwhile
a 7.0 magnitude earthquake
hits Haiti, triggering an estimated death toll of 200,000.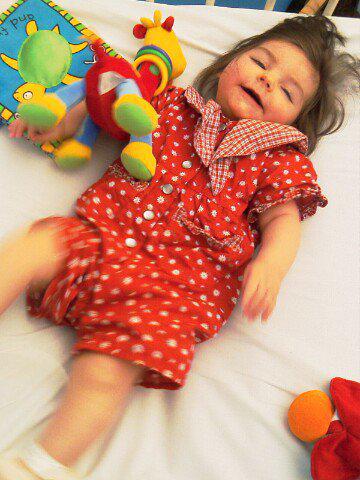 In
February
, it's a sad day for fashion when
Alexander McQueen
dies by his own hand. Isobel's seizures rocket to once every two minutes thanks to a bad cold, and she is rushed to hospital. By 7pm the same day, she has fitted 60 times. Following emergency medication and two nights on the ward, she is weaned off phenytoin - which she has outgrown - and onto sodium valproate.
She battles regardless with 10-30 fits a day throughout
March
, constantly in and out of hospital while doctors continue to navigate her medication. Clobazam is slowly introduced as a complement to the sodium valproate - and for the first time ever, new hope glimmers when Isobel has just three seizures during a visit to
Bath
.
The good fortune doesn't last; a disastrous 
April
sees her stay in hospital another four times. Yet, while 
Icelandic volcanic ash
erupts into airspace, a
6.9 magnitude earthquake
rocks China, and an explosion on a BP-leased rig triggers 
a massive oil slick
 in the Gulf of Mexico, at least Isobel shows strength by sitting independently for 15 minutes during CBBC's 
Shaun The Sheep
.
Tactical voting? Britain's first televised election debate? It can only be
May
, when David Cameron's Conservative Party wins the General Election by a small majority and forms a coalition with the Liberal Democrats. Isobel has an uneasy alliance of her own when a third medication, topiramate, is incrementally added to the medications she already gets over a seven-week period.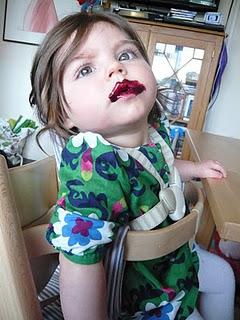 Two weeks before her first birthday in
June
, Isobel is diagnosed with cerebral palsy - and
the blog
is born. It transpires that her epilepsy is a symptom that may be brought under control; for the first time, her doctor is optimistic about eliminating it altogether.
We are not so sure. Our sweet daughter is still averaging 10-15 fits a day, and when she reaches her 20th, I seriously consider postponing an emotional naming day at her birthplace in her honor the night before. (We go ahead anyway.) By then 'vuvuzela' has already entered the global vernacular thanks to South Africa, who is hosting this year's
FIFA World Cup
.
Things do look up in 
July 
when the epilepsy begins to subside after Isobel's 45th day in hospital: just over half the number of days required to terminate her DLA. Might it be to do with the sacking of BP's CEO
Tony Hayward
, following his witless defence of the Gulf of Mexico oil spill? By mid-
August
Isobel is having just one or two seizures a day; by the 31st, they have dwindled to zero. They never appear again for the rest of 2010.
In
September
Tony Curtis
dies. We fly to Crete for a week in
October,
where Isobel surprises us unexpectedly with a huge improvement in feeding, munching on swordfish, calamari, scrambled egg and fresh beef tomato.
The upwards curve has well and truly started.
Thirty-three Chilean miners
are rescued after a record 69 days stuck underground. Upon our return from Crete I learn that I am one of five Deaf people selected to make our 15-minute directorial TV debut as part of Zoom, 
a national film-making scheme
commissioned by BSLBT. Our shorts are earmarked for broadcast in April 2011.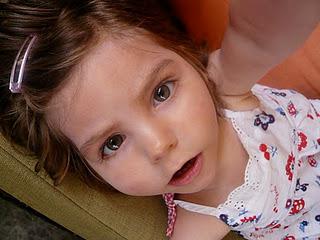 To celebrate our second wedding anniversary, I treat Miles to an evocative performance of Tribes at the Royal Court Theatre. It's the first time since last year that we feel able to leave Isobel properly in someone else's care - in this case, her guidefather Neil.
In
November
Graeae's popular musical,
Reasons to be Cheerful
, revive memories of Ian Dury and The Blockheads at Theatre Royal Stratford East. Following news of
Wills and Kate's engagement
, the three of us attend a cousin's rather livelier wedding in London's
Shoreditch
. Isobel learns to stand with support, and offer balls to people of her choosing in the room.
A quarterly pediatric review discovers a pick-up in growth of her head circumference in
December
- the month in which Coronation Street celebrates 50 years of transmission with
a devastating live episode
. Her doctor suggests that one of her medications may be reduced soon. This is good news: anti-fit medication normally lasts 1-2 years.
Miles starts a new teaching post at a London deaf school after a 18-month jobsearch. Meanwhile, our heroine builds on receptive language skills by correctly identifying which coloured balls the person is requesting, and comes close to cruising.
Although the end of 2010 is near, we're not uncrossing our fingers just yet; it could be a long time before we are confident the seizures have gone for good. That said, it's clear that Isobel has many more gratifying surprises in store for us still; long may they continue.
We would like to thank you all for your overwhelming support throughout the last twelve months. At times when the darkness and despair never seemed to let up, the flurry of texts, emails and tweets that followed were exactly what we needed.
Just as encouraging are the viewing statistics, month-by-month. They indicate that there are a great many more who are finding this blog a source of empathy, enlightenment and comfort. This means much more to us than you know.
Finally, let us raise a glass in the hope that 2011 will be a more promising year for all of us.