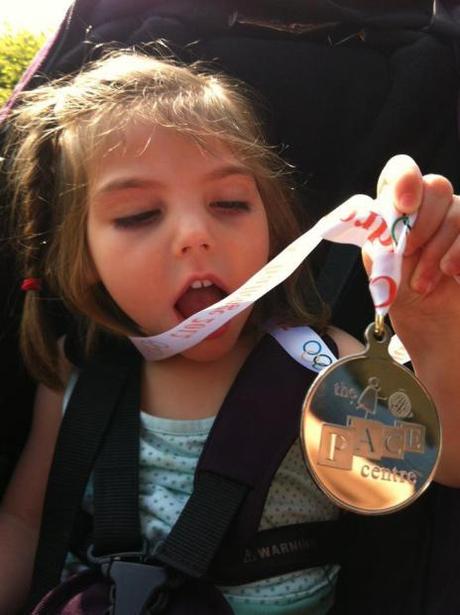 We thought we'd never get there – but we did. Eventually.
It's not that Isobel didn't perform. Rather, as one of PACE's youngest children, she got too overwhelmed by the cheering atmosphere of the Children's Challenge event, and I had to collect her medal for her.
But didn't she do well? She had to push her scooterboard over a set distance with her arms while lying on her tummy – and roughly 400 people saw a film of her achieving just that on screen at Stoke Mandeville Stadium, including MC Dave Lee Travis and gold medal-winning Paralympians Dan Bentley and Sophie Christiansen, both of whom presented the medals.
This was no mean feat for Isobel – that challenge was asking her to make use of the more disabled part of her body, namely her right arm. And she did it – over the entire length of a basketball pitch.
Well done Isobel. We're all so proud of you.
It's not too late to donate to Isobel's Olympic Challenge! Just click here: www.justgiving.com/isobelmostynthomas