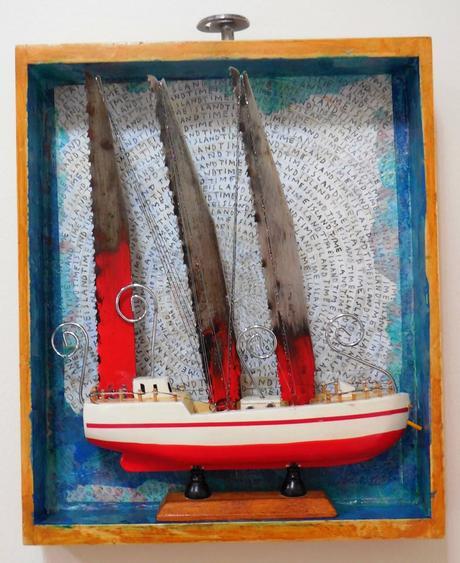 "Island Time"
I've had this small wooden ship in my stash for about a couple of years. When it came into my studio, it did not have any sails and some of the small wooden pegs around the ship were broken.  But it was pretty, and it was well made, and I liked it's small size, and I thought it would be something someday.
When I moved into my new studio in February, there was a lot of construction going on all around me. The great part about all of this was that the dumpster was always full of wonderful things that were thrown away and deemed useless by the construction crew.
Everyday was like (still is) Christmas. I go to the dumpster and find wonderful pieces century old wood planks, or vintage EXIT signs, one day i found an old couch with beautiful carved wood panels and lovely carved feet. All waiting for me to take. 
Well that is the long way to tell you about the wonderful saw blades I used to make this piece.  I found several of these in that dumpster. Apparently they become dulled and must be replaced periodically.  I took these 3 and cleaned off the grease, and then prayed them with a thick coat of varnish.
And look what they became:  Masts for my ship.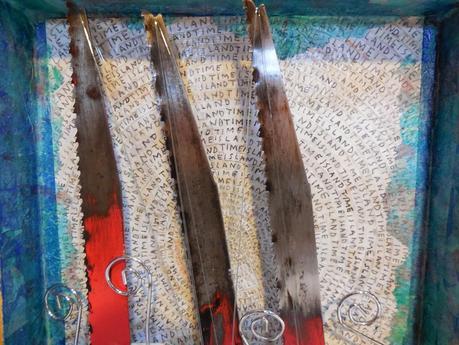 Inspiration for this piece came from an art exhibit I saw at the Sonoma County Museum a couple of years ago. The show was all about art made from vintage tools. Really an amazing show. One of the artists whose work was featured in this exhibit was a fellow named Richard Bronk. Richard is an artist from Wisconsin whose medium is fine woods, and primarily makes furniture and some sculptures, like the one pictured below.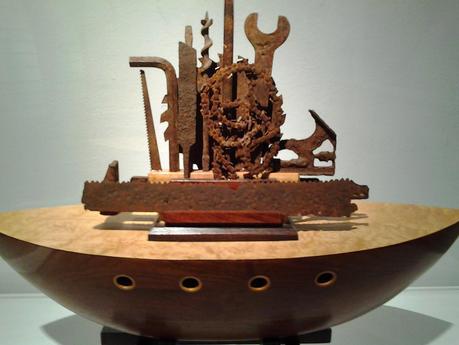 This piece is titled "Ship of Tools".  I so loved this piece I knew that some day I wanted to make my own interpretation.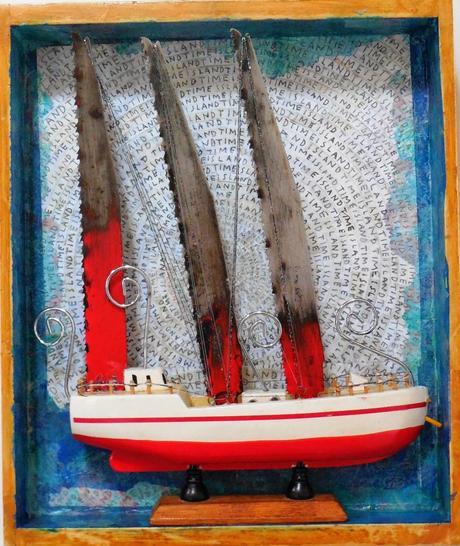 Found objects, a wooden box lid, a toy/model ship, salvages reciprocal saw blades, string and fishing line. The background is blue tissue overlaid with an image from a magazine with the words "island time" handwritten in a circular pattern, hence the name.