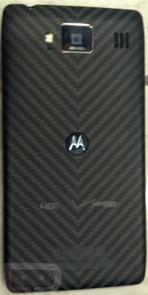 Pictures are leaked to the site Droid Life showing the physical appearance of the sides and back of the Motorola Razr Droid HD. 
Android smartphone is rumored to soon come up with the back of Kevlar and Verizon LTE as usual brand. 
The second photo shows the side of the phone with a USB port and HDMI like the Droid X. 
The source stated that the image upload screen and confirm the remarkable this phone has a navigation button on the screen. 
The phone will be equipped with 3300 mAh battery and possibly 1.5 GHz processor Qualcomm Snapdragon. 
Rumors of this phone will be available later this summer.
source